Do you have any good infographics about the x part of the coronavirus pandemic that would be good for me to share with group y?
That was, basically, a question in an email from a colleague the other day. It helped me to realize that coronavirus/Covid-19 has, to my eye, been one of the more visually communicated crises on social media in the recent past. Infographics, charts, drawings, announcements – you name it. I realized I had already bookmarked much of this visual information, and I made it a point to continue doing so (after I forwarded along a couple good infographics to my friend).
This will be a dynamic collection, with new pieces added, both forwards and backwards in time, as I go through bookmarks and save new items in the days to come. Much of what I've put here is health related (physical, mental and emotional), but there are some other aspects of the pandemic saved here for posterity. I'll do my best to organize everything by date posted, newest at the top. In most cases, an embedded tweet will display an entire image. In other cases – especially when multiple images are used in a tweet – I'll extract the image so it's easier to see, and place it above the source tweet.
There's a lot left out, here. Many examples that are just news photos. Photos or graphics that may show up in link preview mode, but aren't actually a clickable element of the tweet (without having to go to a linked page first). Repeated visual information. Graphics that basically don't say anything (e.g., it's just the name of the organization on a picture). Etc.
I don't follow all these accounts – many of these tweets have been RT'd into my timeline, or have displayed on Twitter's "home" view because of likes, people in my circle following an account, etc.
I don't endorse a single one of these as a good or bad example, because that's subjective for much of this (and can be judged in different ways, such as the content or the design). However, zero graphics or photos that contain misinformation/disinformation will be posted here, unless it's part of a debunk, and obviously so. If you spot something here that is false, please let me know!
(Note [Friday, April 3]: I started a part two of the COVID19 VI because this page got so full it was taking a long time to load. This page includes everything I added up to and including March 31. The part two page goes back to and including VI from April 1, and onward. Radical. Rock on.)
March 30 – 31
(yay. March is over.)
This week's cover, "Bedtime," by Chris Ware: https://t.co/775s0pKjaR pic.twitter.com/0D0Tzm5HHR

— The New Yorker (@NewYorker) March 30, 2020
Phil and Phillis are practicing social distancing. Be like Phil and Phillis.

We can do this! #MondayMotivation pic.twitter.com/mKTMP1UqJB

— Philadelphia Phillies (@Phillies) March 30, 2020
Looks like the hoops have been removed at my neighborhood's basketball courts to prevent people from playing: pic.twitter.com/NftAc1kzX9

— Martin Austermuhle (@maustermuhle) March 30, 2020
Week ??? of homeschooling your kids?

Here's a comic to help you through: https://t.co/NhsHu0TtRS

By @npr_ed's @theLAJohnson & @anya1anya pic.twitter.com/m4NqGnfiUE

— Life Kit (@NPRLifeKit) March 30, 2020
It's important to grieve the loss of normal life, says trauma counselor and interfaith chaplain Terri Daniel.

This includes:
-Social connections
-Habits and habitat
-Assumptions and security
-Trust in our system
-Sympathetic loss for othershttps://t.co/b01MtWNygv pic.twitter.com/XjySA3a6Fl

— Life Kit (@NPRLifeKit) March 30, 2020
— John Porcellino (@The_Real_John_P) March 31, 2020
Join us tonight for the final installment in our Issue 59 Virtual Release party with the incredible Oyinkan Braithwaite. Come be alone together with us. pic.twitter.com/Pm9IlAeopq

— Timothy McSweeney (@mcsweeneys) March 31, 2020
Protect our #Ohio communities as if your life depended on it. https://t.co/3lWx4IRScb#InThisTogetherOhio #COVID19OhioReady #StayHomeOhio pic.twitter.com/7kOzeoRv2r

— Governor Mike DeWine (@GovMikeDeWine) March 31, 2020
.@DrAmyActon: What we are doing now will get us out of this faster and back to work faster. I feel confident that we are using the best modeling possible. All models agree that #SocialDistancing is essential. pic.twitter.com/ttFrvMGDqs

— Governor Mike DeWine (@GovMikeDeWine) March 31, 2020
🦠 A CLOSER LOOK AT COVID: Does the chloroquine phosphate I can purchase online treat COVID-19 symptoms? Short answer: definitely not, please don't ingest non-prescription chloroquine phosphate. pic.twitter.com/tbuzgi7sFY

— Mo Health & Sr Srvcs (@HealthyLivingMo) March 31, 2020
A group of about 40 cars was (is?) driving around Richmond this morning calling for a rent freeze. pic.twitter.com/cQxGl51LF5

— Ned Oliver (@nedoliver) March 30, 2020
#NMCPReadyForTheFightTonight #CallToAction #StopTheSpread #FlattenTheCurve

USNS Comfort passes the Statue of Liberty as it enters New York Harbor during the outbreak of COVID19 in New York City. (Photo by Andrew Kelly/REUTERS) pic.twitter.com/ndqKOXlauf

— NAVAL MED CEN PORTS (@NMCP1) March 30, 2020
Always From #Within
💛🙏🏻 pic.twitter.com/hdmaoB2H82

— 💗LOVE YOUR LIFE💗 (@lovehappiness__) March 30, 2020
Pirate Captain's Quarantine Log #godblessthefreaks pic.twitter.com/Edvncj1YrK

— Cree Summer (@IAmCreeSummer) March 30, 2020
I need to stop eating #30MoreDays pic.twitter.com/PlHGtJ0jxw

— StrongBlackWoman (@MrsRJ_48nFit) March 30, 2020
1,020 #COVID19 cases confirmed in #Virginia. Reminding all Virginians to do their part! #StayHome #SocialDistancingNow #WashYourHands #6feetapart TY! pic.twitter.com/VVd1rqO1wi

— VA State Police (@VSPPIO) March 30, 2020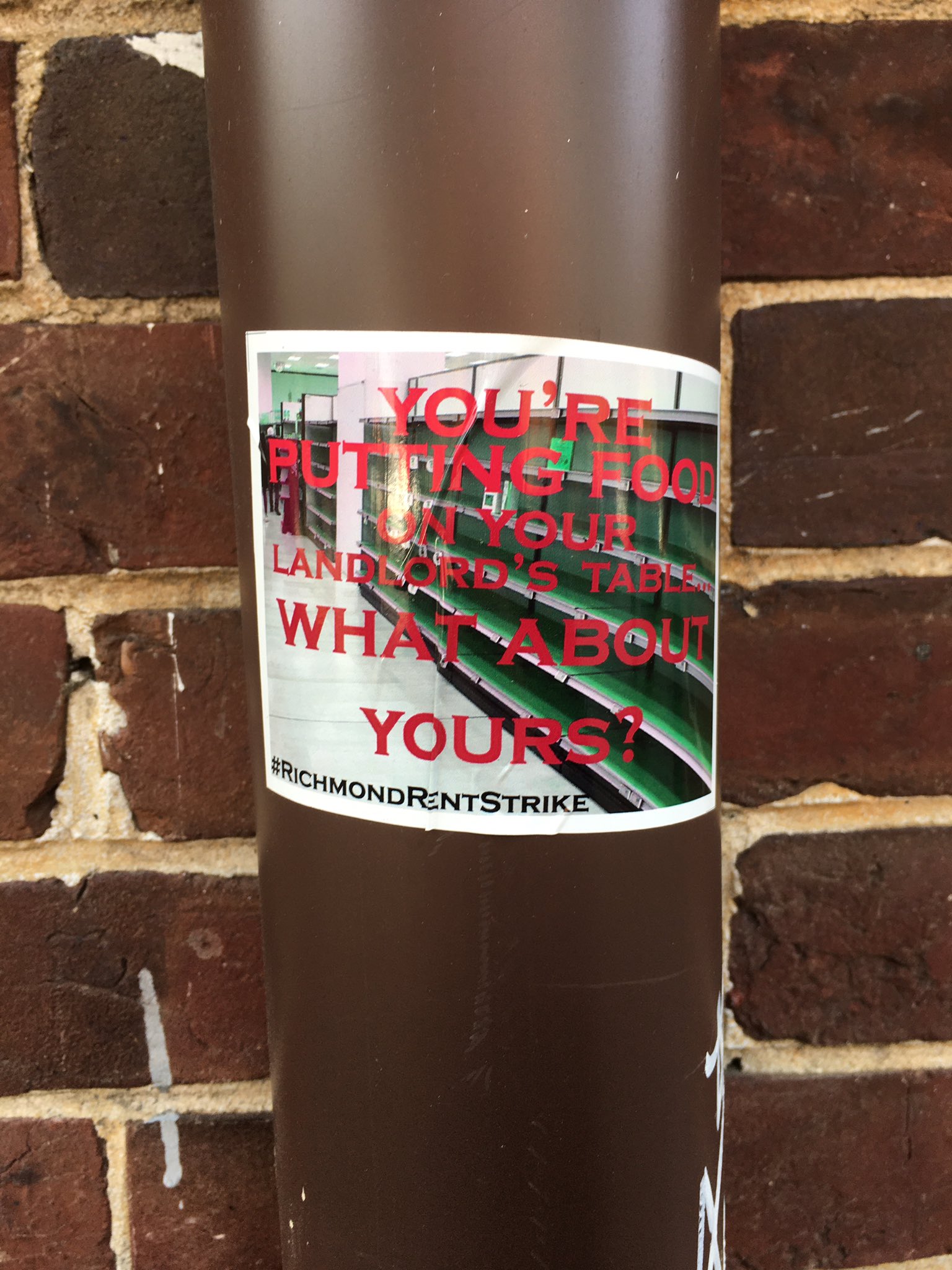 Loads of stickers and flyers across the Fan and Museum District neighborhoods in #Richmond calling for a rent strike. pic.twitter.com/q5G6mwMS3J

— Roberto Roldan (@ByRobertoR) March 30, 2020
Zoom in on the logo. pic.twitter.com/Yhj9IWLYyu

— ODU Football (@ODUFootball) March 30, 2020
Some exceptions to @GovernorVA stay-at-home order:
✅ Getting groceries/medicines
✅ Caring for sick family/friend
✅ Getting medical care
✅ Going outside for exercise
✅ Getting necessary social/government services
✅ Traveling to/from work
Details: https://t.co/9cA3YMG8rp pic.twitter.com/hfoUt6xWqc

— Fairfax County Government (@fairfaxcounty) March 30, 2020
WE PROMISE! pic.twitter.com/Q7pZziDG8e

— TheNorVA (@TheNorVa) March 30, 2020
#COVID19 home-caregivers:
Ensure ill person rests, drinks plenty fluids & eats nutritiously
Wear😷when in same room
Clean🙌frequently
Use dedicated🍽️🥛towel & bedlinen for ill person
Disinfect surfaces touched by ill person
📞healthcare facility if person has difficulty breathing pic.twitter.com/5TphNdYMC9

— World Health Organization (WHO) (@WHO) March 31, 2020
— Marielena Balouris (@Marielena_TV) March 31, 2020
We can't THANK YOU enough. 💕 pic.twitter.com/2LTEGajUAM

— ESSENCE (@Essence) March 31, 2020
Now that @GovernorVA has issued a Stay at Home order, more of us are working from home. @CDCgov recommends two steps to keep frequently touched surfaces clean:
1️⃣ Soap and water
2️⃣ Household disinfectant

More info: https://t.co/IdrMjPCBF6 #COVID19 #TuesdayThoughts pic.twitter.com/LSzyBwp2Wp

— Virginia DEQ (@VirginiaDEQ) March 31, 2020
Seeing things on Social Media, or hearing things from other people that don't seem to add up concerning #COVID19? Be sure to check out the @fema Coronavirus Rumor Control Page to help you fact check those items. https://t.co/qHi7RNO8FS pic.twitter.com/wn4VLZSLrs

— Corps of Engineers (@norfolkdistrict) March 31, 2020
There's nothing new about "fake news", but so many of these stories look like the real thing. Check out this infographic and learn to spot fake news. pic.twitter.com/6xUAw635qB

— WV DHSEM (@WVDHSEM) March 31, 2020
We're working on a little bit of rumor control this morning – if you see this going around, know that it is FALSE. pic.twitter.com/GyEwegwBC4

— Va. National Guard (@VaNationalGuard) March 31, 2020
Check out this important update from #SocialSecurity on the #COVID19 pandemic. https://t.co/28NXXbI8kk pic.twitter.com/OYc6Kgw8C9

— Social Security (@SocialSecurity) March 31, 2020
March 29
Since you're staying home in April, what will you be reading? pic.twitter.com/HQrV3n6kdV

— Philosophy Matters (@PhilosophyMttrs) March 29, 2020
— Derf Backderf (@DerfBackderf) March 29, 2020
Today's Venn Diagram : From our friends in the Dystopian Literature Program pic.twitter.com/Jn6P4kHABx

— Philosophy Matters (@PhilosophyMttrs) March 29, 2020
Chris Riddell on #COVID19 #Coronavirus #HandWashing⁠ ⁠#selfisolating #CoronavirusPandemic #looroll #panicbuying – political cartoon gallery in London https://t.co/dePcTdnXF6 pic.twitter.com/QkjLQq2VsD

— Political Cartoon (@Cartoon4sale) March 28, 2020
— Ali Arouzi (@aliarouzi) March 29, 2020
This Danish supermarket is making social distancing a little easier for everyone 🙌 (via Henrik Schou) pic.twitter.com/jkMtaytpJk

— First We Feast (@firstwefeast) March 29, 2020
I think I probably speak for all single fathers raising triplets on their own when I say that the sooner the @USTreasury Department gets that 2700 dollar relief check to me the safer my daughters and I will feel. pic.twitter.com/rHu6VirjHC

— Mike Polk Jr. (@mikepolkjr) March 28, 2020
What stage of capitalism is this? pic.twitter.com/iyloyXm1kn

— Public Citizen (@Public_Citizen) March 29, 2020
Summit County UT has one of the highest rates of #coronavirus infections in the country & the highest in the state. We're all thinking of you folks up there, please take care of yourselves.#utahcovid19 #CoronavirusUSA #ParkCity #utpol pic.twitter.com/4gSGUqYa2R

— DL Weeks (@fluffalo_roam) March 30, 2020
#NMCPSundaySpotlight #NMCPWeAreTheFightingSpirit #StopTheSpread#FlattenTheCurve #COVID19 #Coronavirus #CallToAction
The #USNSComfort and #USNSMercy have been deployed in support of the U.S. Department of Defense (DoD) #COVID19 response. pic.twitter.com/IK57wBPkSU

— NAVAL MED CEN PORTS (@NMCP1) March 29, 2020
In China, no province outside of Hubei ever had more than 1,500 confirmed cases of #COVID19. In America, there are now 15 states with more than 1,500 diagnosed cases of #COVID19. pic.twitter.com/pWiL9rPk9T

— Scott Gottlieb, MD (@ScottGottliebMD) March 29, 2020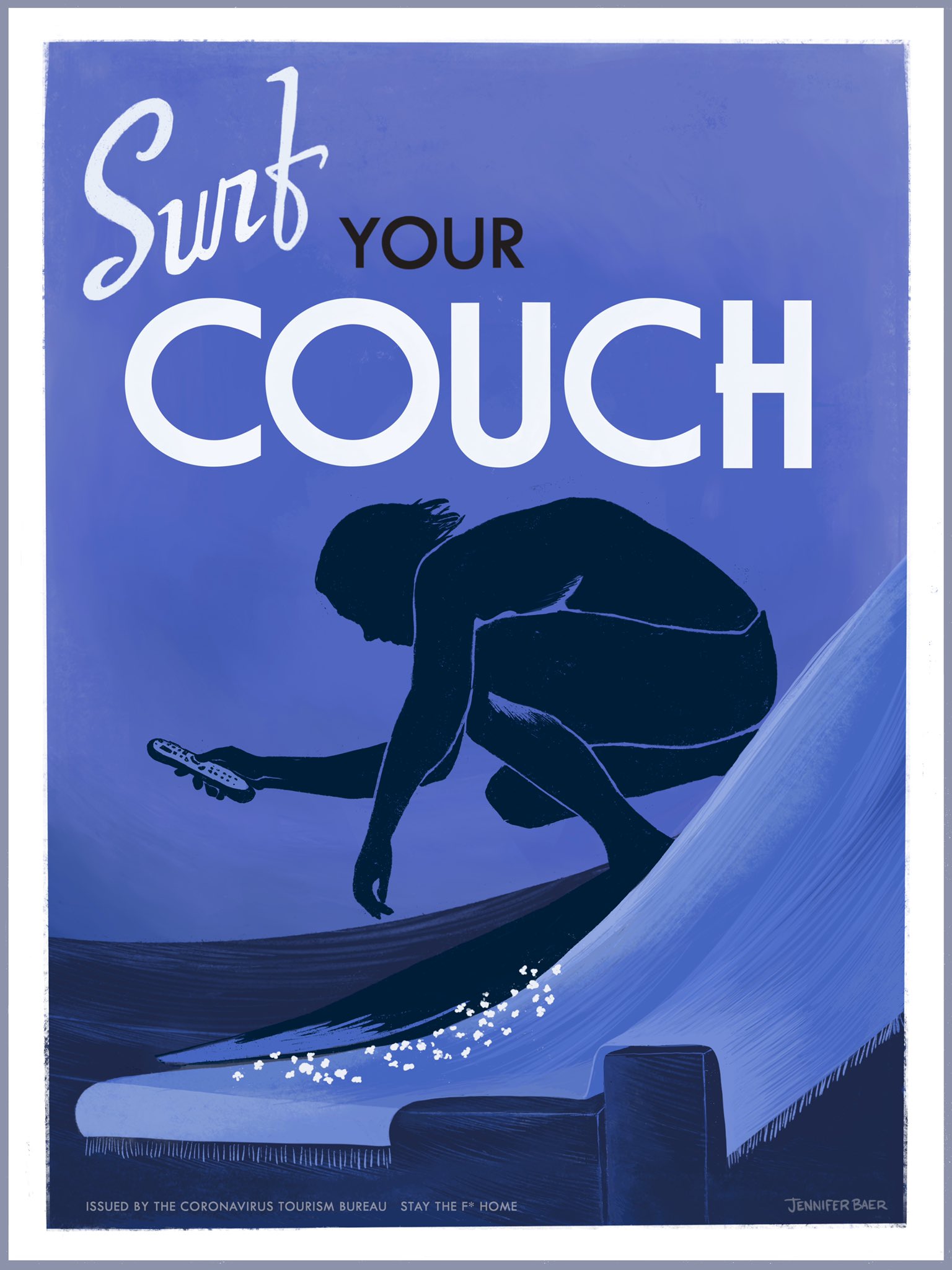 Hi. I designed some coronavirus travel posters for you. Stay the F* home. Love you all. pic.twitter.com/mzY52GFm6Z

— Jennifer Baer (@jenniferbaer) March 26, 2020
March 27 – 28
An NPR reader posts this very helpful graphic breaking down the $2 trillion rescue package. Via reddit: https://t.co/TkboHRiZH8 pic.twitter.com/xHBT2LCQ2i

— Tim Mak (@timkmak) March 27, 2020
Cornteen is fucking hard when you're out of pepperoni…

Thanks to Joseph Emiliani for spotting this AWESOME art! #FanArtFriday pic.twitter.com/4Mea3M0krV

— Trailer Park Boys (@trailerparkboys) March 27, 2020
Comic: How To Turn Your Home Into A School Without Losing Your Sanity by @theLAJohnson and @anya1anya (a thread) with @anahomayoun on being realistic about time and capabilities juggling work and home life with kids @NPR #QuarantineLife #COVID19 #comics #cojo via @NPRLifeKit pic.twitter.com/FhguniKqpc

— NPR's Education Team (@npr_ed) March 27, 2020
Sometimes there's a man who, well, he's the man for his time and place, he fits right in there–and that's
the Dude. pic.twitter.com/XQSk1mw36J

— Akron-Summit County Public Library (@akronlibrary) March 27, 2020
It had to happen… pic.twitter.com/nAZFuV6Rtd

— Steve Stewart-Williams (@SteveStuWill) March 27, 2020
From our friends in the Norse Mythology Department : be like Odin, #stayinasgaard. pic.twitter.com/bDT4MpbmDN

— Philosophy Matters (@PhilosophyMttrs) March 28, 2020
#COVID19Paris nouveaux points de distribution alimentaire pic.twitter.com/sJag7jc6p4

— RESF_Réseau Education Sans Frontières (@resf19) March 28, 2020
Age range / sex of #COVID19 cases in #Ohio. #InThisTogetherOhio #StayHomeOhio#COVID19OhioReady pic.twitter.com/cxZsODcatf

— Governor Mike DeWine (@GovMikeDeWine) March 28, 2020
#ThursdayThoughts: We're stronger together.

Reach out to your coworkers, your family and your friends–make sure they're OK and know that even during these times of social distancing, we'll get through this together. #COVID19 pic.twitter.com/ZaktnCycnb

— U.S. Air Force Materiel Command (@HQ_AFMC) March 26, 2020
How you talk to kids about #COVID19 matters. Here's why, along with some guidance for adults: https://t.co/qIl8RIKgSH #CoronavirusOutbreak #FridayThoughts pic.twitter.com/wX3LVY7GWH

— Red Cross Virginia (@VARedCross) March 27, 2020
Rural cases of #COVID19 have increased by nearly a third in the past 24 hours. Reporting from @dailyyonder: https://t.co/rknvm0xgeN pic.twitter.com/VPdDJlv2Am

— 100 Days in Appalachia (@Appalachia100) March 27, 2020
Why is social distancing important?
Social distancing is a way to slow the spread of the coronavirus. When people who may have the virus stay away from others, they can't pass it to anyone else, less people get sick & our healthcare systems can keep up w/ those who need care. pic.twitter.com/LsFyg7PDo0

— NRHA Norfolk, VA (@NRHANorfolk) March 27, 2020
If you're hitting the trails for recreation and to relieve stress … pic.twitter.com/b3kt8cRtaW

— Virginia State Parks (@VAStateParks) March 28, 2020
— 😔🤙 @ social distancing con (@peachring_) March 27, 2020
🦃 @TheHokieBird's wingspan is about six feet.
⚠️ Social distancing = staying six feet away from others.
💡 In conclusion, be the HokieBird. pic.twitter.com/5ZOPnr1QhF

— Virginia Tech (@virginia_tech) March 27, 2020
March 26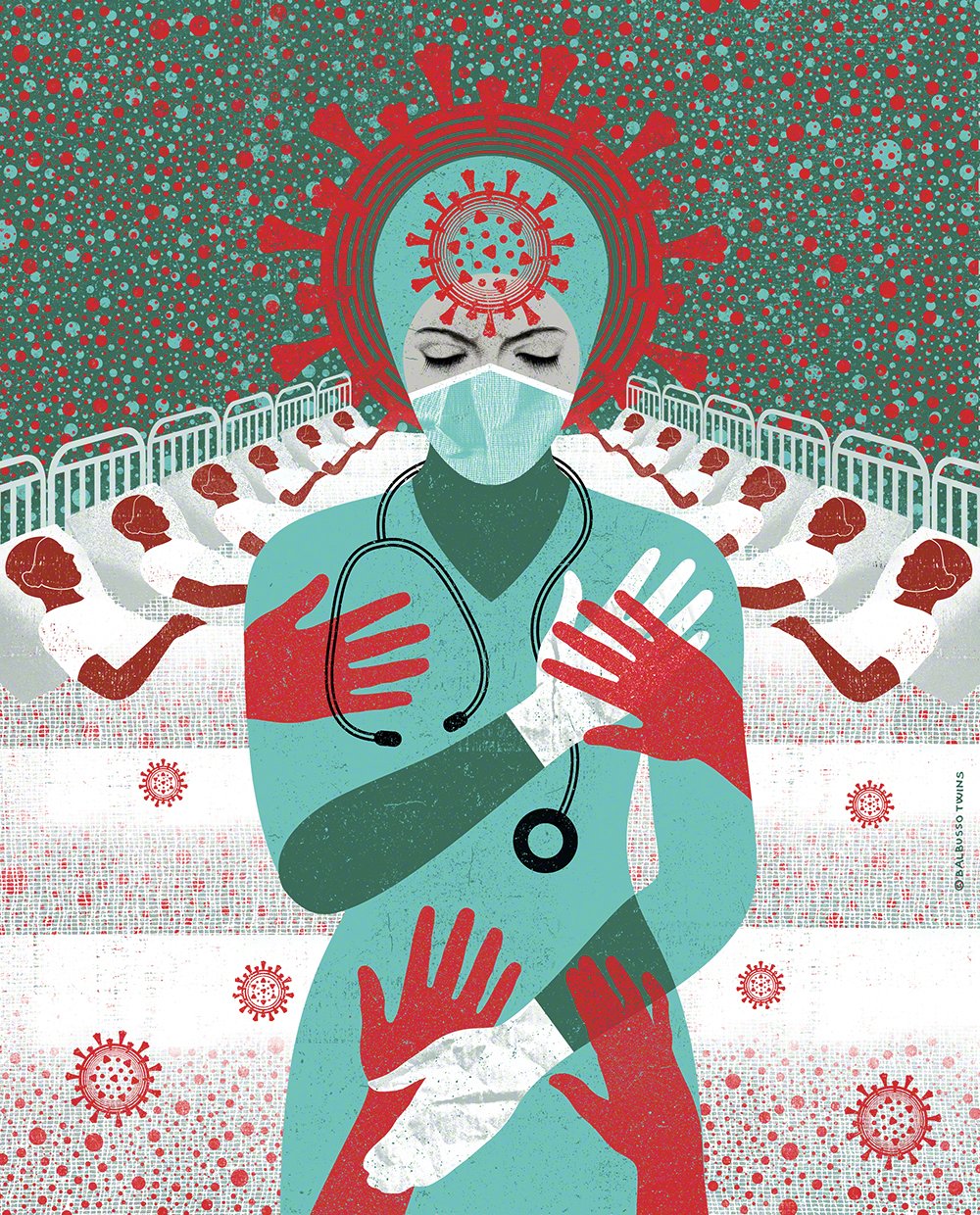 Italian illustrator twins, Anna & Elena Balbusso's artwork in praise of 'all the doctors and health workers engaged in this very hard planetary war against the #covid19' #womensart pic.twitter.com/9n1XFUQpTu

— #WOMENSART (@womensart1) March 26, 2020
We know this is a challenging time for all of us, but it's important to stay healthy and connected while you practice social distancing. Here are some tips from the @RedCross that can help. #coronavirus #COVID2019 #SocialDistancing #Quarantine #StayHome pic.twitter.com/sk8wx2tIh5

— Red Cross Virginia (@VARedCross) March 26, 2020
Your sacrifices don't go unnoticed! #HelpingHamptonRoads #COVID19 pic.twitter.com/lyRgr4a1Yv

— Hampton Roads Community Foundation (@HamptonRoadsCF) March 26, 2020
Chesapeake Parks, Recreation and Tourism has closed all park amenities, including the Skate Park at City Park, all City Dog Parks, all City Outdoor Courts, Park Restrooms, and all City Playgrounds. Open space and trails will remain open but social distancing must be maintained. pic.twitter.com/zuJHLQGS9g

— City of Chesapeake (@AboutChesapeake) March 26, 2020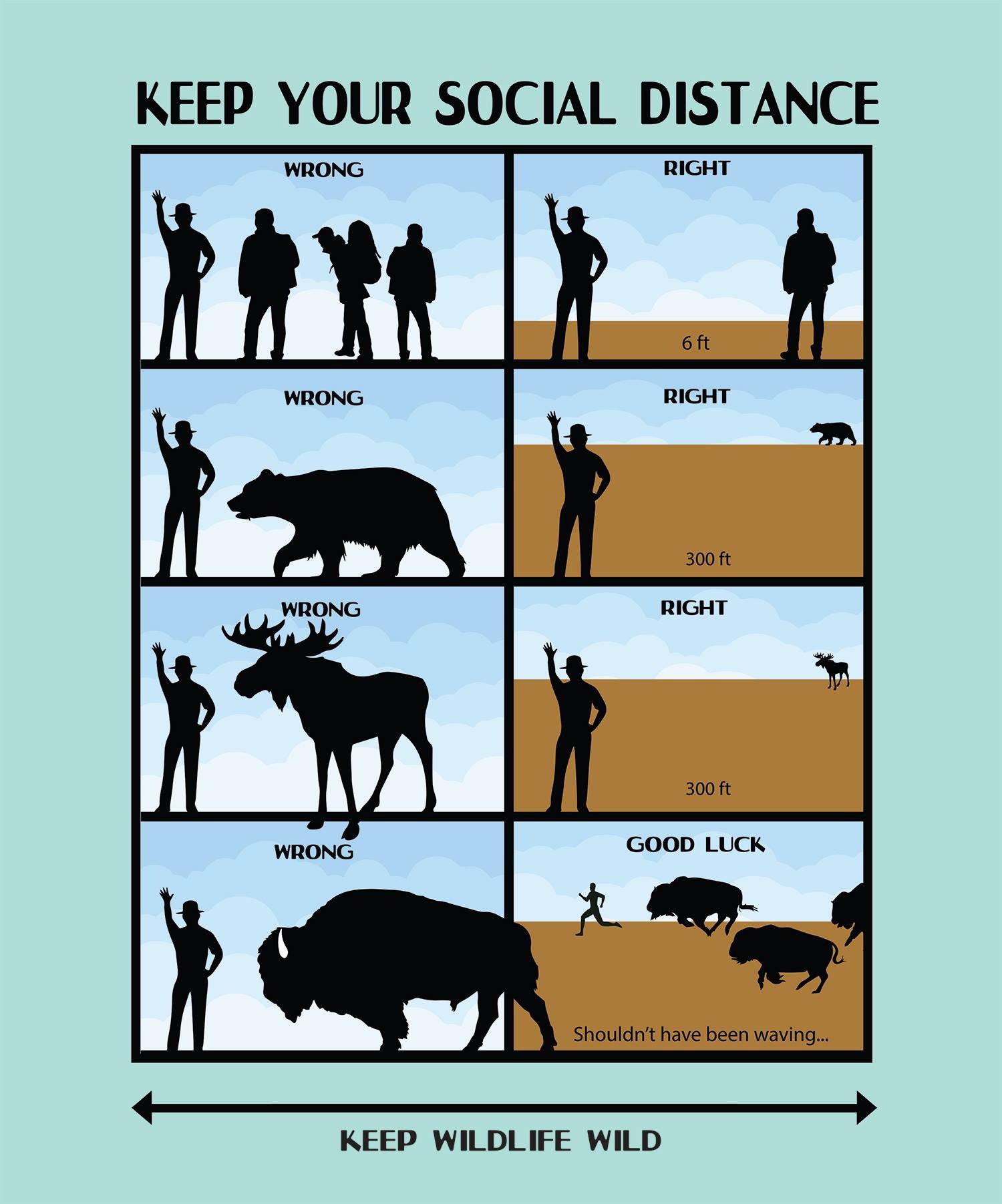 Social distancing means avoiding large gatherings and maintaining distance (6 ft) from others. While we're at it, remember to keep it at least 300 ft for larger wildlife.

Check park websites for the most up to date information regarding access and services.#SocialDistancing pic.twitter.com/BlqfvGflEO

— National Park Service (@NatlParkService) March 25, 2020
When has there ever been a chart like this?https://t.co/UdyBD7wEHv pic.twitter.com/ty3naKTSb4

— Steve Inskeep (@NPRinskeep) March 26, 2020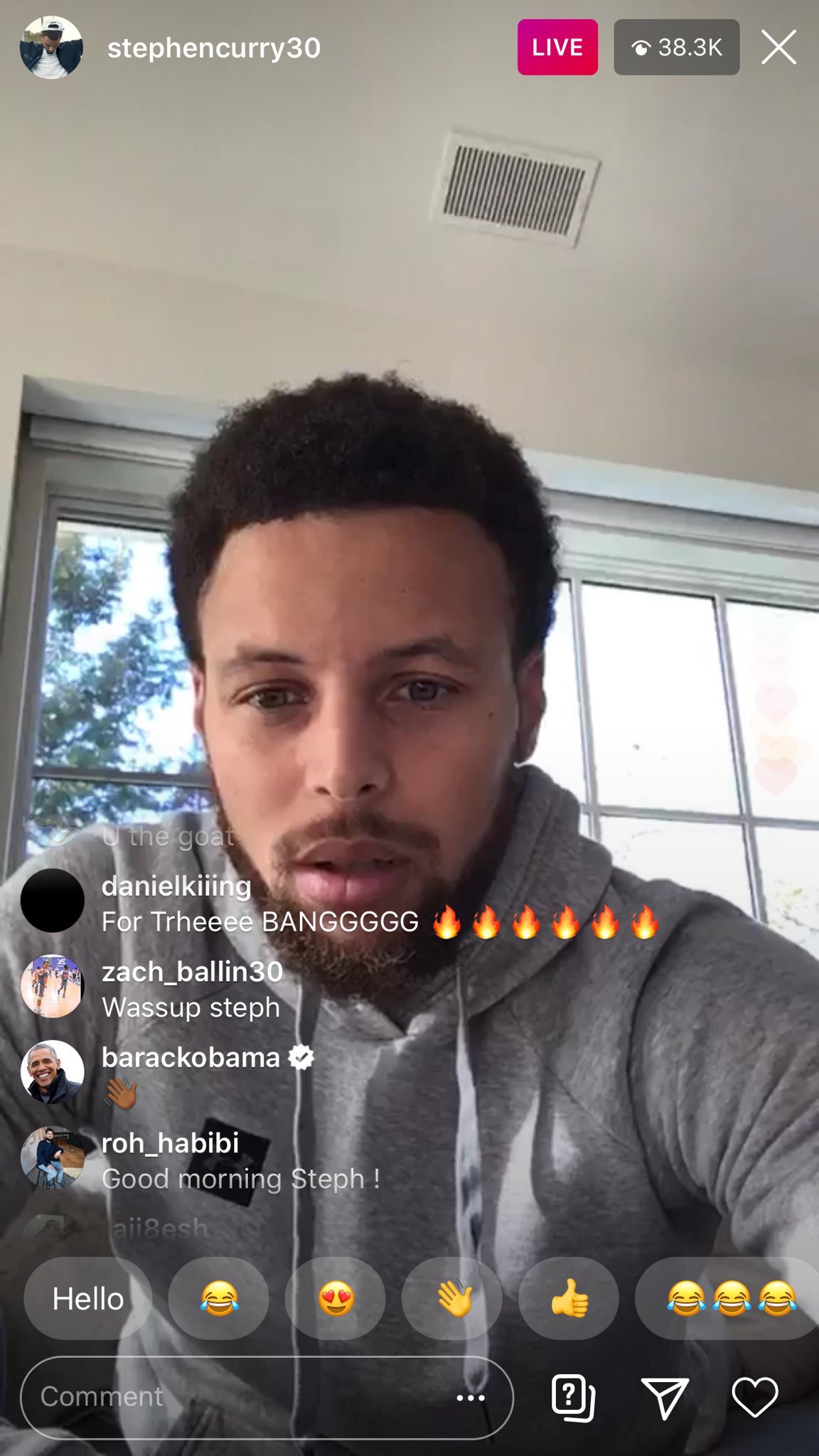 Gotta love Barack Obama dropping into an IG live between Steph Curry and Tony Fauci during a global pandemic pic.twitter.com/d6n8nLY9w3

— David Gardner (@byDavidGardner) March 26, 2020
Play it safe to protect yourself and others from #COVID19. 🚦
Learn more: https://t.co/UwCj5Cj4At#COVID19VA pic.twitter.com/j0TXKZIEpk

— VDEM (@VDEM) March 27, 2020
#Ohio's confirmed #COVID19 cases by county. pic.twitter.com/rLhQCGWirr

— Governor Mike DeWine (@GovMikeDeWine) March 26, 2020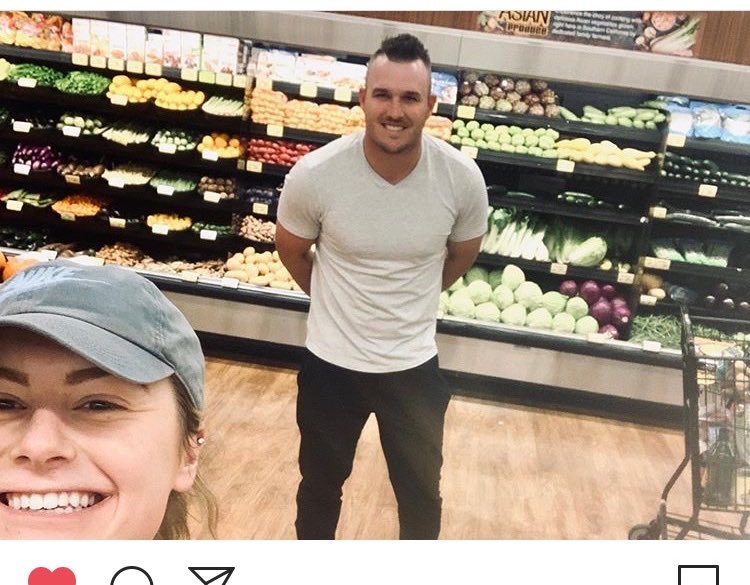 ok, but here's something hilariously wholesome my friend just sent me. his friend saw mike trout at a grocery store and took a selfie – but, a social distancing selfie

and trout commented back

genuinely the best shit. i love it pic.twitter.com/YLfAyIoGgX

— Alex Chamberlain (@DolphHauldhagen) March 26, 2020
Share this graphic to let others know that staying home saves lives.https://t.co/MEWs6uxEBa#StayHomeDC

Source: @SignerLab, @GaryWarshaw pic.twitter.com/h3Xoj3TRRT

— Mayor Muriel Bowser (@MayorBowser) March 26, 2020
The US now has the highest number of coronavirus cases in the world, ahead of China and Italy. 24 hours sooner than I'd predicted. Testing is rising & the number of infections too https://t.co/Dx8KuvFDfA pic.twitter.com/nfixOkpguN

— Liz Sly (@LizSly) March 26, 2020
— Minor League Baseball (@MiLB) March 26, 2020
Social distancing, Minnesota Twins style: pic.twitter.com/wh11XGLEnw

— Todd Radom (@ToddRadom) March 27, 2020
March 25
Social Distancing… DO IT!!! pic.twitter.com/hMOWfYMaVn

— Paul Stanley (@PaulStanleyLive) March 25, 2020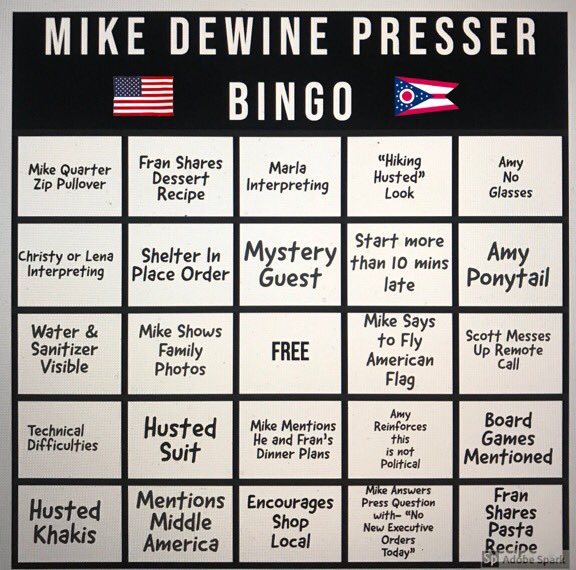 Since there are no sports… some of our fellow Ohioans are getting creative. @Reflog_18 #stayathome #covid19 #InThisTogetherOhio pic.twitter.com/AxQdYJaC1E

— Lu Ann Stoia (@stoiawsyx6) March 25, 2020
New year. Same goal.

Let the journey begin 💪 pic.twitter.com/drjdSt9yeR

— USA Swimming (@USASwimming) March 25, 2020
Looking for the latest #COVIDー19 updates? You can get trusted info sent right to your phone or email. Sign up for our update list by texting "JOIN COVID" to 30890 to receive regular updates and information about COIVD-19.

For more resources, visit https://t.co/Uo9vkgMH83 pic.twitter.com/1Uhhdcq6wq

— Russ Davies (@AACoFD_PIO) March 25, 2020
Can we pause to salute the data heroes out there? My salutes go to @CT_Bergstrom and Esther Kim for the 'flatten the curve' graph/meme (wow: how many lives did that save?) and @jburnmurdoch for his work on the FT's daily update. 🙏 pic.twitter.com/n9fo73Wofm

— Shiv Malik (shivmalik.eth) (@shivmalik) March 25, 2020
And, https://t.co/vIKDfNM1Ph is *live*.

Re-gens hourly. Very basic atm.

Latest data will be at https://t.co/a0oq71ZAbg (internally timestamped)

Based on the aforetweeted #rstats package https://t.co/AnalpHYbIp#covidistration pic.twitter.com/TZpNV38w1J

— boB Rudis (@hrbrmstr) March 26, 2020
The rate at which coronavirus is being detected in the United States means that by Friday it will probably overtake China to become the country with the most cases in the world pic.twitter.com/OeJGi5MnGw

— Liz Sly (@LizSly) March 26, 2020
DOT has modified its daily operations to help prevent the spread of COVID-19. Remember to stay home to stay safe and help stop the spread! #CoronavirusBalt #Publichealth pic.twitter.com/5ZHBvzMVV4

— Baltimore City DOT (@BmoreCityDOT) March 24, 2020
COVID-19 Update: Beginning 3/26, all playgrounds, dog parks, skate parks, basketball and volleyball courts are closed until further notice. For all current updates, please refer to the FAQs on our website. https://t.co/3nE0IPqBAg pic.twitter.com/BqrRw1EOji

— VB Parks & Rec (@VBParksRec) March 25, 2020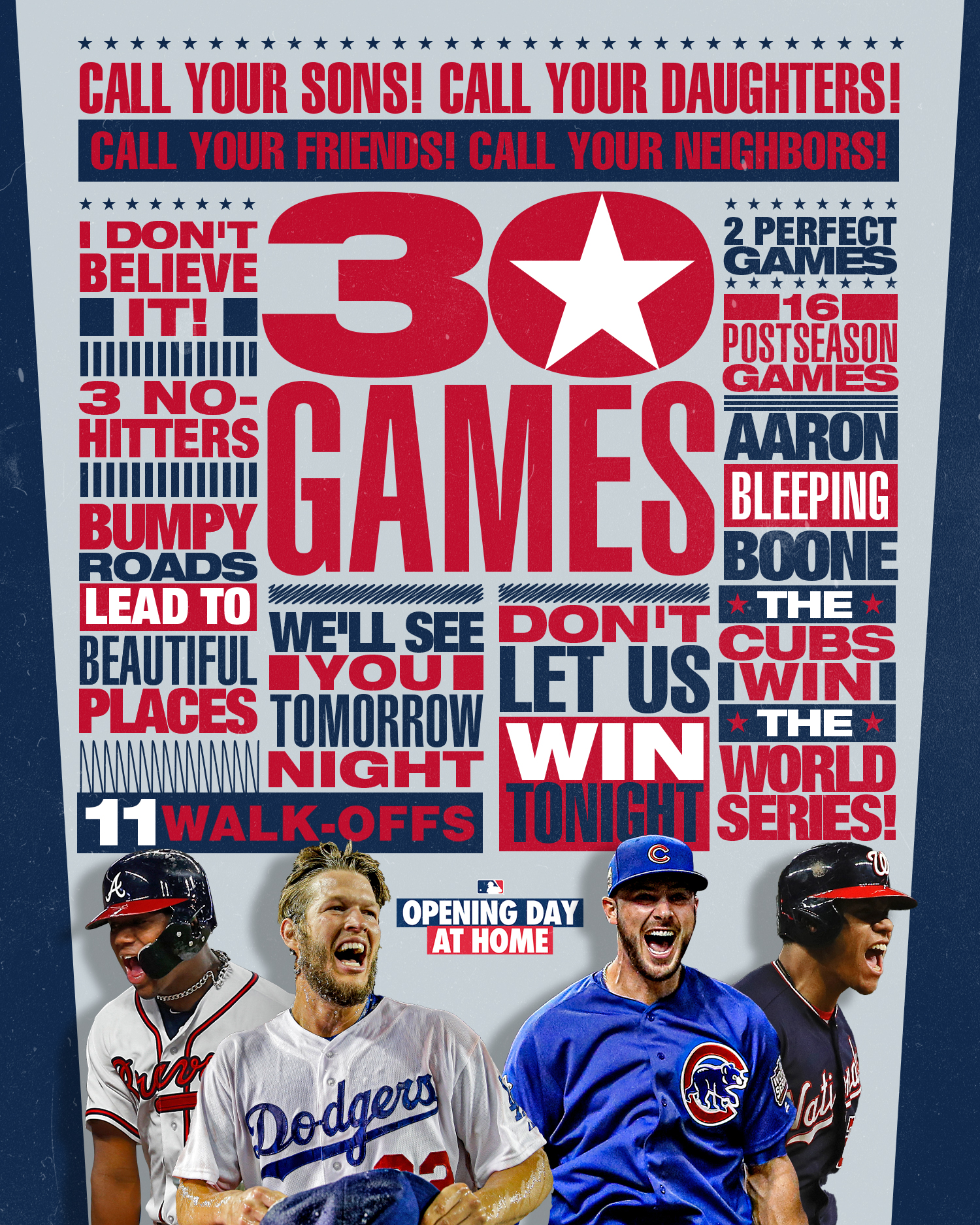 Tomorrow, let's celebrate baseball together with 30 games across @MLB social platforms. #OpeningDayAtHome pic.twitter.com/K9jQgOCaQE

— MLB (@MLB) March 25, 2020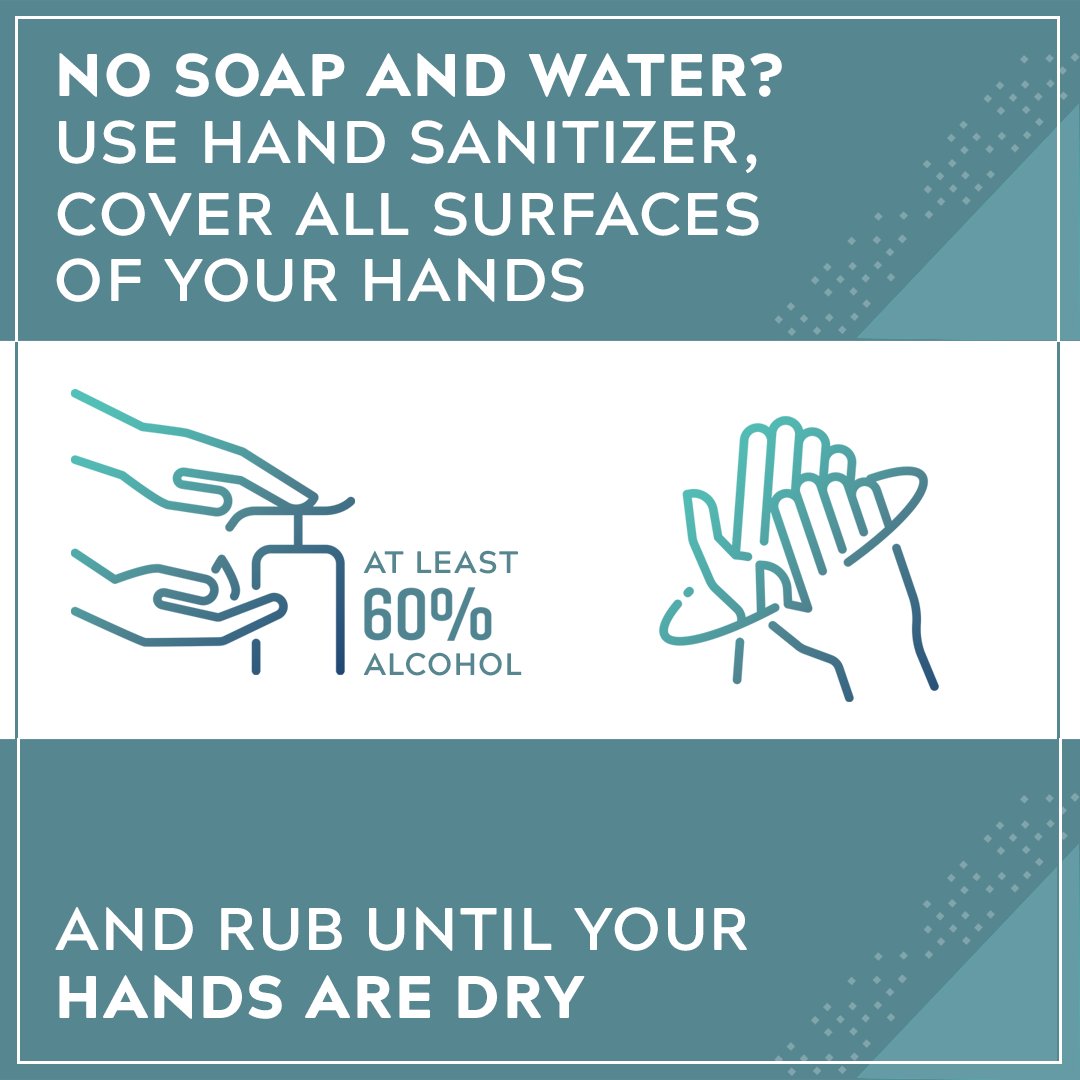 Do your part to #FlattenTheCurve and slow the spread of sickness by washing your hands.🧼

For additional #COVID19 information, please click the link below👇https://t.co/tJLYLEwqOc pic.twitter.com/HO36w167jC

— Virginia Tech Engineering (@VTEngineering) March 25, 2020
"All of us are accountable to change our behaviors and stop the spread of this virus. We are focused on sharing critical information with those on the road during this health crisis." – @SecTransVA

More on our #COVID19 changeable message signs here: https://t.co/aD4Bjikggt pic.twitter.com/inQtXG3bGd

— VDOT (@VaDOT) March 25, 2020
Hyped to talk all things COVID-19 with Dr. Fauci of the @NIAIDNews tomorrow. This is a conversation for YOU so submit questions with #SCASKSFAUCI and join at 10am PT tomorrow (Mar 26). Let's get it! pic.twitter.com/7DC0dty6u6

— Stephen Curry (@StephenCurry30) March 25, 2020
— out of context parks & rec (@nocontextpawnee) March 25, 2020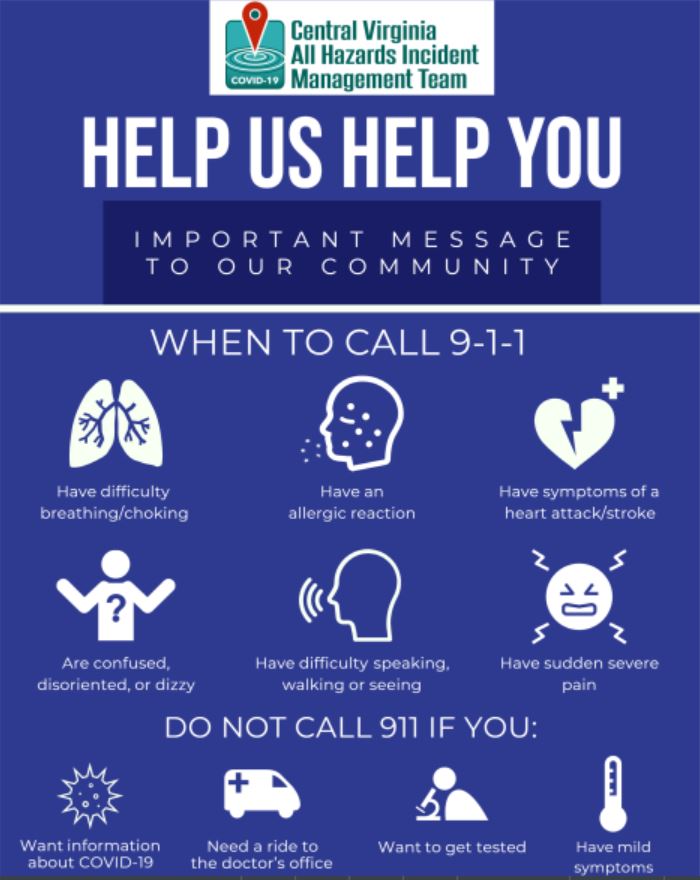 Authorities are reminding citizens to call 9-1-1 only in the event of a life-threatening emergency. Citizens who believe they have contracted #COVID19 should call 9-1-1 only if they are experiencing either severe difficulty breathing or severe illness. https://t.co/Vsb64m90Kc pic.twitter.com/ksEqxhGltI

— VDEM (@VDEM) March 25, 2020
Retweet and tag a few bands that you want to see at @TheNorVa when we're back in action! pic.twitter.com/RlfnylIxqP

— TheNorVA (@TheNorVa) March 25, 2020
March 24
#StayAtHome Save lives…. pic.twitter.com/997xScy1dE

— PL Henderson ♀ 🎨 (@PL_Henderson1) March 23, 2020
We (my @uw_cip colleagues and I) have been collecting and analyzing tweets related to COVID-19 — focusing on how social media influence and scientific expertise/findings shape information flow (and sometimes spread misleading information). pic.twitter.com/DCXrCM2dKN

— Kate Starbird (@katestarbird) March 24, 2020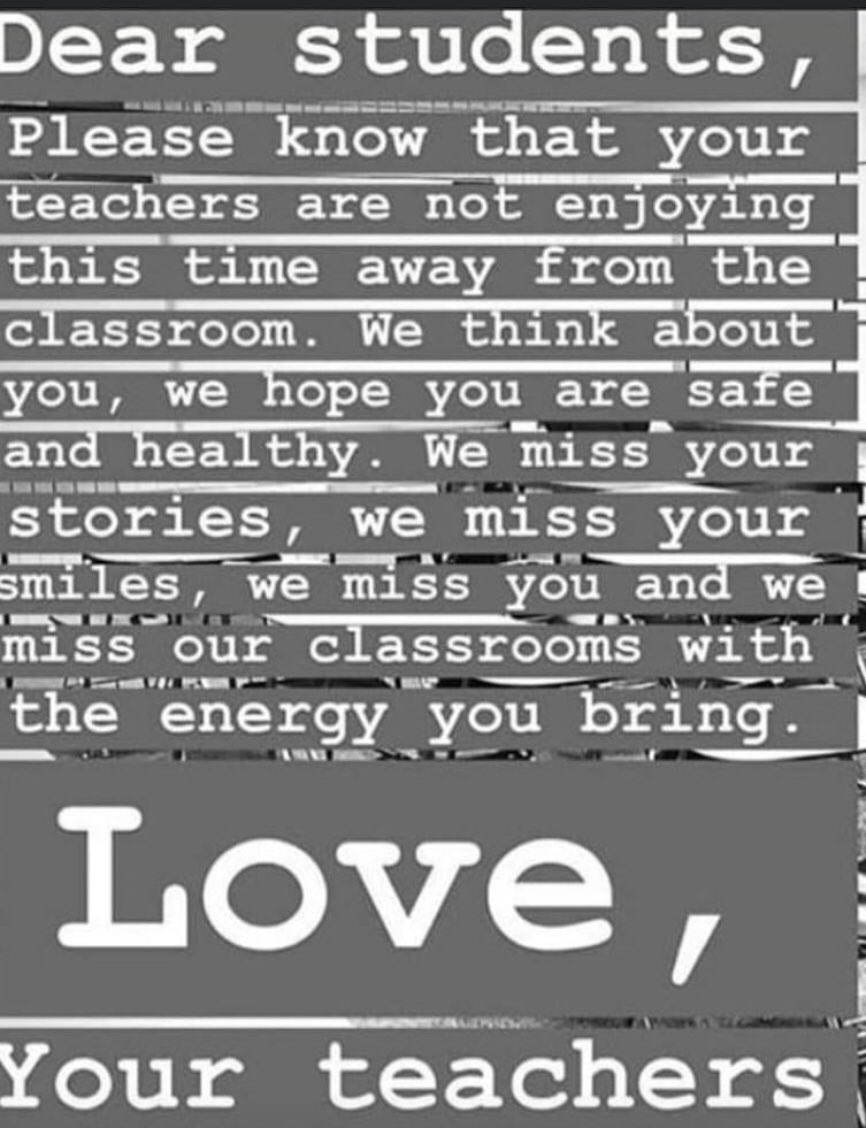 #weloveourpbyoungins #WeAreNPS @NPSchools @Cluster2ES pic.twitter.com/AULODp00uX

— PB Young Elementary (@PBYoungKnights) March 24, 2020
#WaffleHouseIndexRed: 365 Waffle House restaurants closed. 1,627 open. pic.twitter.com/DhPtcI0Byd

— Waffle House (@WaffleHouse) March 24, 2020
well, would you look at the time…

12
11 ^ 1
10 | 2
9 ⊙—-> WASH YOUR HANDS
8 4 O'CLOCK
7 5
6

— New Jersey (@NJGov) March 24, 2020
👍🏾🙂 pic.twitter.com/YfNIpZK3u2

— Missy Elliott (@MissyElliott) March 24, 2020
Here are just a few of our hard-working faculty ready to reconnect with you online. We are here for you! #ODU #ODUAtHome pic.twitter.com/IZPwhWSJ07

— Old Dominion University (@ODU) March 24, 2020
It's a simple message:@covid19washoe | #StayHomeForNevada | #Aceball♠️ | #AllInForAceball pic.twitter.com/CPktDMXRwc

— Reno Aces (@Aces) March 24, 2020
The number of new deaths continues to trend up each day globally at an increasingly alarming rate. Today had 2309 new confirmed deaths globally, with 18,804 total deaths. pic.twitter.com/E5Iab40llD

— Tomer Burg (@burgwx) March 25, 2020
March 23
Now more than ever, we are all one team.#PlayInside | #PlayForTheWorld pic.twitter.com/SeTBeUzMb8

— Cleveland Indians (@Indians) March 23, 2020
Meanwhile, in Minneapolis pic.twitter.com/16hzQMKBIW

— Scott Kerr (@scott_kerr) March 23, 2020
Covid-19 has changed everything, even litter. pic.twitter.com/IDv6VwdBl6

— Richard Littler (@richard_littler) March 23, 2020
Last month I finished a new book— through 2 yrs of work, our social reality's changed so quickly that I often felt it couldn't be published soon enough to keep up.

Now, even 2019's sense of urgency & uncertainty seems antiquated. Some passages have very different meanings now. pic.twitter.com/INOQjcWTD4

— Nate Powell (@Nate_Powell_Art) March 23, 2020
#StayAtHomeSaveLives #COVIDー19 #StayHomeSaveLives pic.twitter.com/zMGxOpkTw0

— Scarfolk Council (@Scarfolk) March 23, 2020
It's lunch time! Just a reminder that it's still okay to order carryout or pick up from restaurants offering those services. We encourage you to continue keeping a safe distance between yourself and others while doing so. pic.twitter.com/AaiEjA9rA6

— City of Akron, Ohio (@AkronOhioMayor) March 23, 2020
Mantle & Maris offer a message for our times: pic.twitter.com/lueJfZlIY0

— John Thorn (@thorn_john) March 23, 2020
Trying to help them all in Parma Ohio. Campaign #SupportParmaTakeOut pic.twitter.com/hO2tn5TWaD

— Timothy J. DeGeeter (@TimDeGeeter) March 24, 2020
— Chris Meloni (@Chris_Meloni) March 23, 2020
Just a friendly reminder:#Aceball♠️ | #AllInForAceball pic.twitter.com/XflMPOMZlZ

— Reno Aces (@Aces) March 22, 2020
Social distancing rule of 👍 = 1 fathom.#COVID19 #socialdistancing pic.twitter.com/KM1LISSRh7

— U.S. Navy (@USNavy) March 23, 2020
March 21 – 22
RT @fairfaxhealth: What does social distancing really mean? Watch our video and find tips here: https://t.co/RGHwtIN4Dp#FFXCOVID pic.twitter.com/N7SVNHNv40

— Ready Fairfax (@ReadyFairfax) March 21, 2020
Help your neighbors! Practice social distancing by putting space between yourself and others. Continue practicing healthy habits to help slow the spread of #COVID-19. Learn more about staying safe and healthy at https://t.co/7wyPeRoyKt. #CapeCountyStrong pic.twitter.com/EoXAoHotT3

— Cape Girardeau City (@cityofcape) March 20, 2020
Many stores have altered hours to provide time for their staff to thoroughly clean, restock, and rest. Pick up what you need and refrain from over purchasing products you don't need. Your neighbors need toilet paper, too. #CapeCountyStrong pic.twitter.com/ThBSH2H2Zm

— Cape Girardeau City (@cityofcape) March 21, 2020
— Noelle (@Noelle82336286) March 21, 2020
New Mexico: it is absolutely essential that we all stay home in order to slow the spread of COVID-19.

The health of your community depends on the actions you take. It's as simple and as serious as that.

Please stay home when at all possible. Together, we will get through this. pic.twitter.com/yUs60y93Bc

— Michelle Lujan Grisham (@GovMLG) March 21, 2020
Nice work @stewleonards #DanburyPride https://t.co/GerdhUeeXQ https://t.co/ieHJiG0vQa pic.twitter.com/CwfsiZZlz3

— Mayor Mark Boughton (@MayorMark) March 22, 2020
Words that work: https://t.co/hpfP0M3sg6 pic.twitter.com/btoQQneQYT

— Frank Luntz (@FrankLuntz) March 22, 2020
#COVIDー19 threatens every country regardless of development status but disasters don't affect everyone equally and we need support to low and middle income countries struggling with the #pandemic. Here's my interview with @timesofindia https://t.co/cpge1LOwWy pic.twitter.com/rYtlVtuHeX

— Mami Mizutori (@HeadUNDRR) March 23, 2020
What's safe? What does it mean? Why is it important? 🚥#SocialDistancing pic.twitter.com/WKN4B9ZdSd

— Navy Region Mid-Lant (@CNRMA) March 21, 2020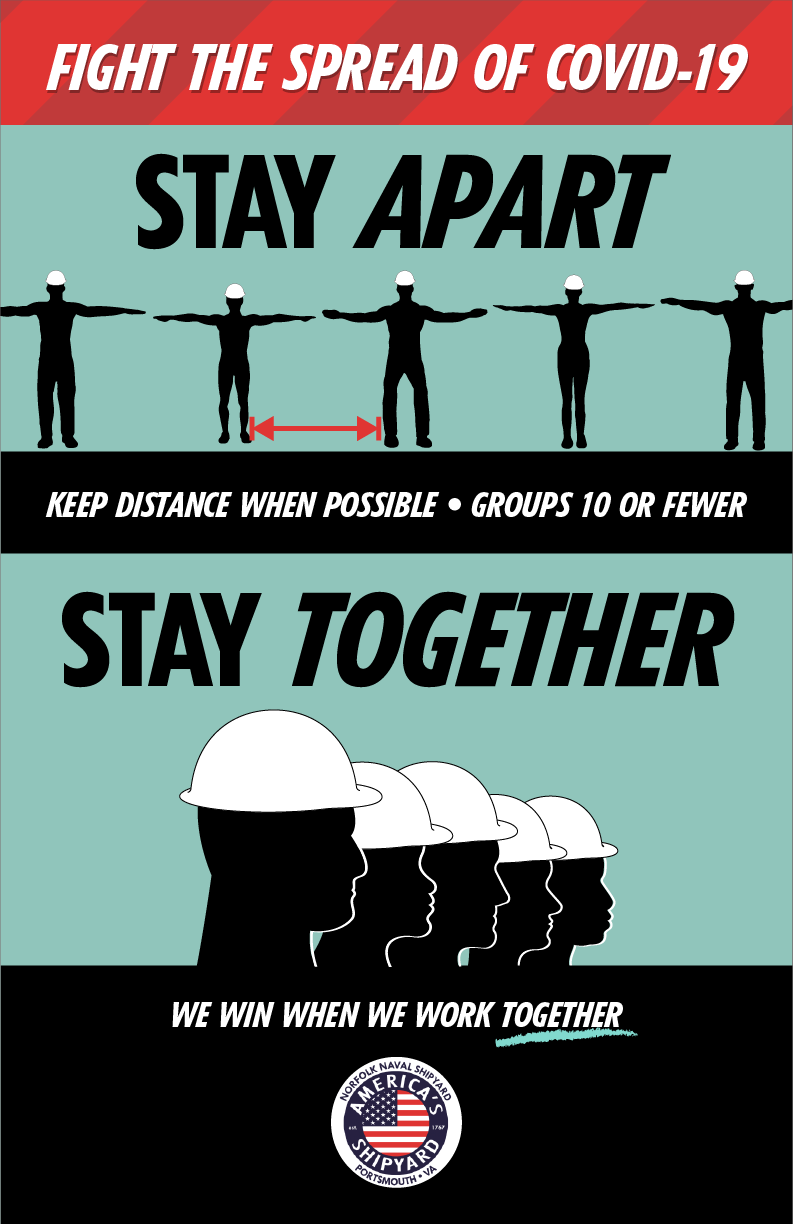 Help us fight the spread of #COVID19. Keep your distance when possible and look out for one-another. We win when we work together. pic.twitter.com/H7hfbqd7rJ

— Norfolk Naval Shipyard (@NNSYNews) March 21, 2020
March 20
People seem to be mixing up these terms so I made a little guide. pic.twitter.com/mwGqdtk05f

— Mona Chalabi (@MonaChalabi) March 20, 2020
Today in Blacksburg: pic.twitter.com/5c8u0cVcfj

— henri gendreau (@henrigendreau) March 19, 2020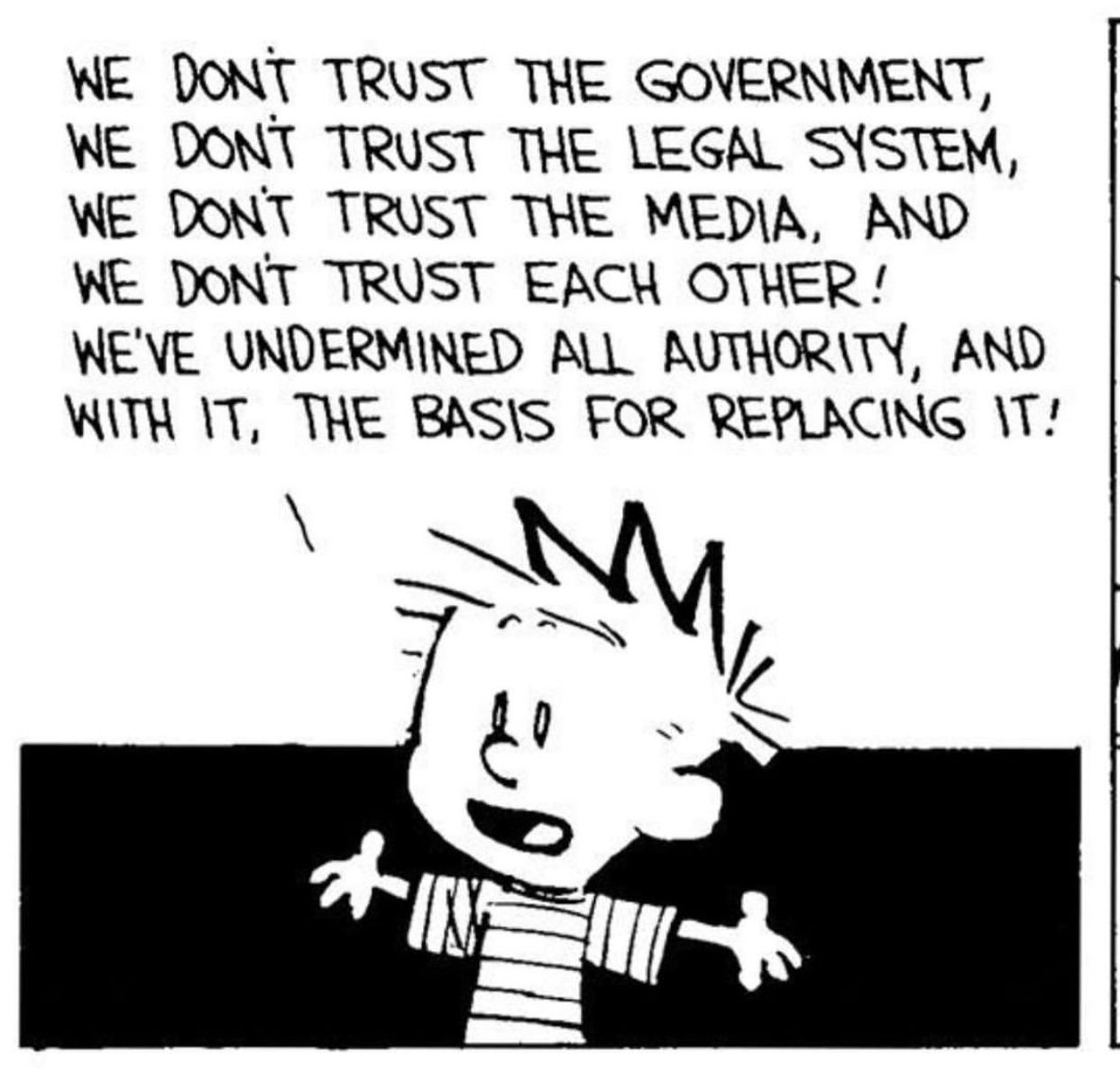 These are definitely "interesting times" right now… pic.twitter.com/u2KrHtesel

— Calvin and Hobbes (@Calvinn_Hobbes) March 20, 2020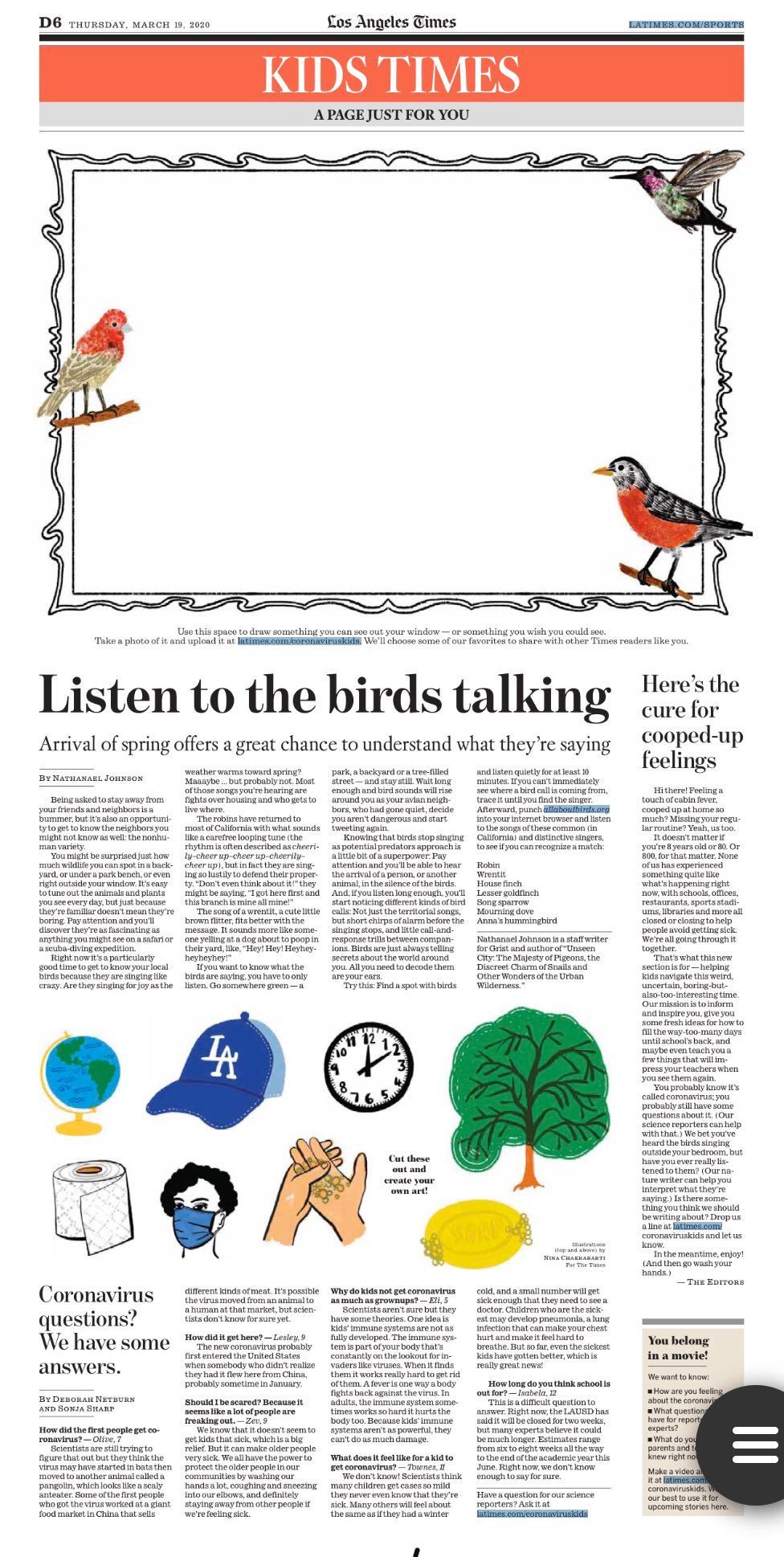 The @latimes has printed a special section for children. 🖍️ https://t.co/MpoW1tzZzz pic.twitter.com/lvMPqb2cox

— Nieman Lab (@NiemanLab) March 20, 2020
— Garrett Miller (@heyitsgarrett) March 20, 2020
Nearly two-thirds of social media users say they've seen coronavirus misinformation https://t.co/gmdZEi0w2C pic.twitter.com/EaXcSQv6Na

— First Draft (@firstdraftnews) March 21, 2020
Embrace what you CAN do outdoors!

While many park facilities are temporarily closed nationwide, there are a lot of great ways to engage with the outdoors in your neighborhood or backyard!

*Remember to follow social distancing per CDC recommendations; avoid groups of 10+ people. pic.twitter.com/ExacJcqOmM

— National Park Trust (@NatParkTrust) March 20, 2020
If you're sick with #COVID19 or think you might have it, follow these steps to help protect other people in your home and community. https://t.co/t8qcnBTcZS#COVID19VA #FightTheSpreadVA pic.twitter.com/qPo7csgOgA

— VDEM (@VDEM) March 20, 2020
— Mike Judge (@MikeJudge) March 20, 2020
Feeling stressed or anxious about #COVID19? Make time to do activities that you enjoy and can help you relax. https://t.co/2AfHZLQ83v pic.twitter.com/5fEaeoJ4wT

— CDC (@CDCgov) March 20, 2020
If you experience mild signs of illness such as fever, cough, or shortness of breath, it's important to STAY HOME! Even mild symptoms such as these can spread the infection to others. Learn more: https://t.co/xVllHBujJP#COVID19VA #FightTheSpreadVA pic.twitter.com/Nab0m8JMW2

— VDEM (@VDEM) March 21, 2020
March 19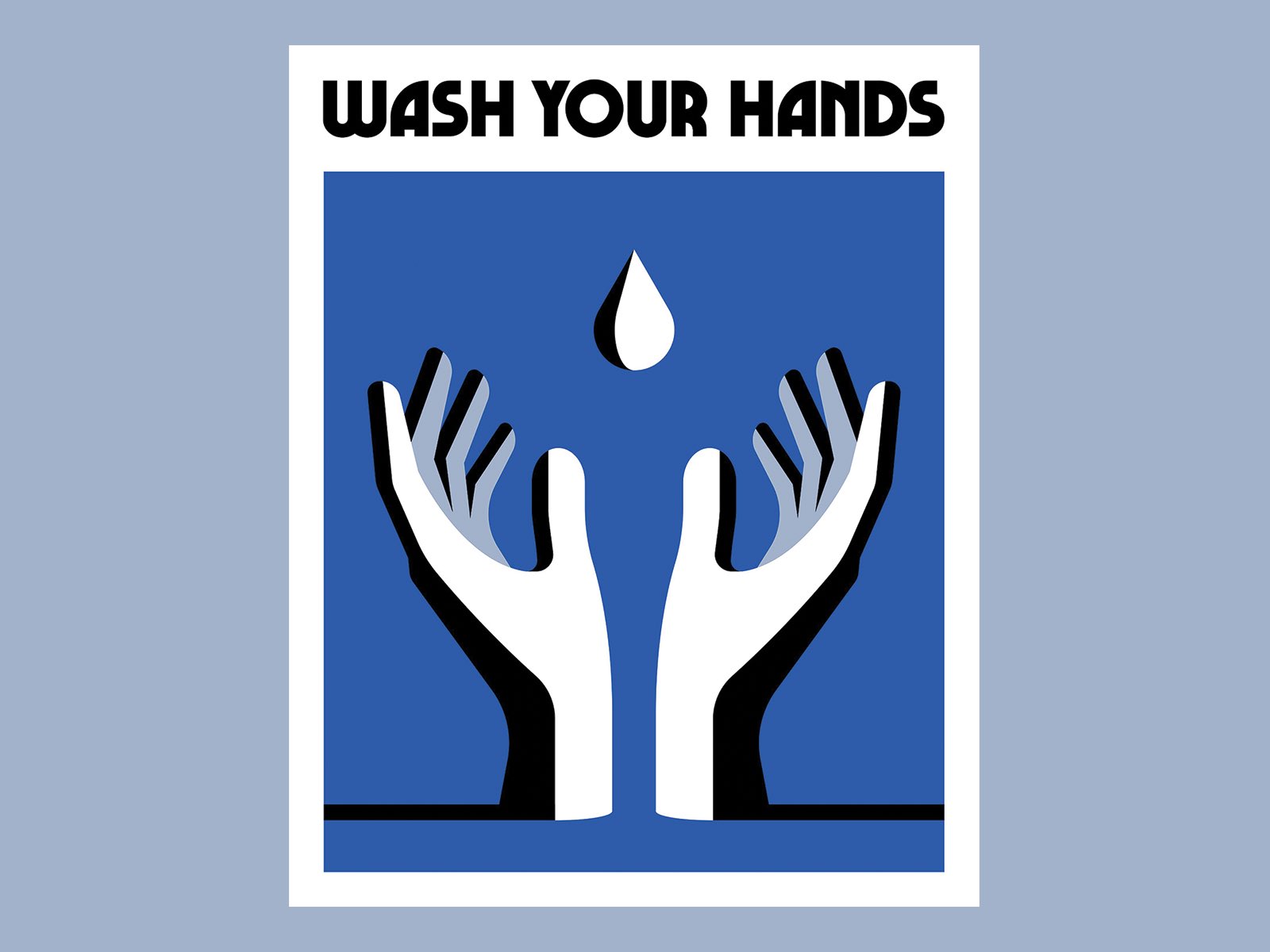 Share your art 👇 @dribbble @markaguilar201 @FatShoeLace @jeremybooth pic.twitter.com/KMZDtk15bF

— Sharif Matar (@sharifmatar) March 19, 2020
yup, as US testing *finally* ramps up we're seeing a rapid increase in confirmed cases. I would guess we get to 30,000+ inside of 3-4 days https://t.co/oPsZmi6Brh pic.twitter.com/CuOFJjfQBg

— ryan cooper (@ryanlcooper) March 19, 2020
#COVID19 #coronavirus #DTK19 #DunningKruger #Medium pic.twitter.com/0tNzPDgWlU

— Calling Bullshit (@callin_bull) March 19, 2020
What @LambeauField will look like this fall if you don't isolate, folks! #GoPackGo #WFH #puzzles pic.twitter.com/7MnnH5jPNo

— Kevin Baron (@DefenseBaron) March 19, 2020
Minnesotans are stepping up to #FlattentheCurve. Remember it's not about you, it's about your grandparents, your friend who's a healthcare worker, or your neighbor with a health condition. We can overcome this, but only if we #StayHomeMN. pic.twitter.com/BJKnpsEzN9

— Jake Odorizzi (@JakeOdorizzi) March 19, 2020
Share this graphic to help inform our high risk residents and seniors. For more information visit https://t.co/pnawzxnrPZ. pic.twitter.com/1GK1me2yMr

— DC Health (@_DCHealth) March 19, 2020
What you need to know about COVID-19 via @BMore_Healthy: pic.twitter.com/HWDs7M8Gdu

— Baltimore Orioles (@Orioles) March 19, 2020
Together, we can stop the spread of #COVID19. Here are the most recent guidelines for Americans from the @WhiteHouse and @CDCgov. #coronavirus pic.twitter.com/4xEKCYiU1M

— HHS.gov (@HHSGov) March 19, 2020
Protect yourself & others from getting sick:
1⃣ Wash your hands
🧼 after coughing or sneezing
🧼 when caring for the sick
🧼 before, during & after you prepare food
🧼 before eating
🧼 after toilet use
🧼 when hands are visibly dirty
🧼 after handling animals or animal waste pic.twitter.com/wG8YTU0HJ7

— World Health Organization (WHO) (@WHO) January 17, 2020
March 18
If your employment has been impacted by COVID-19 and you need to file an unemployment claim visit https://t.co/w92m2PN1O6. #coronavirus #WorkingBetterTogether pic.twitter.com/OqgrDl1baI

— MO Dept of Labor (@MOLabor) March 18, 2020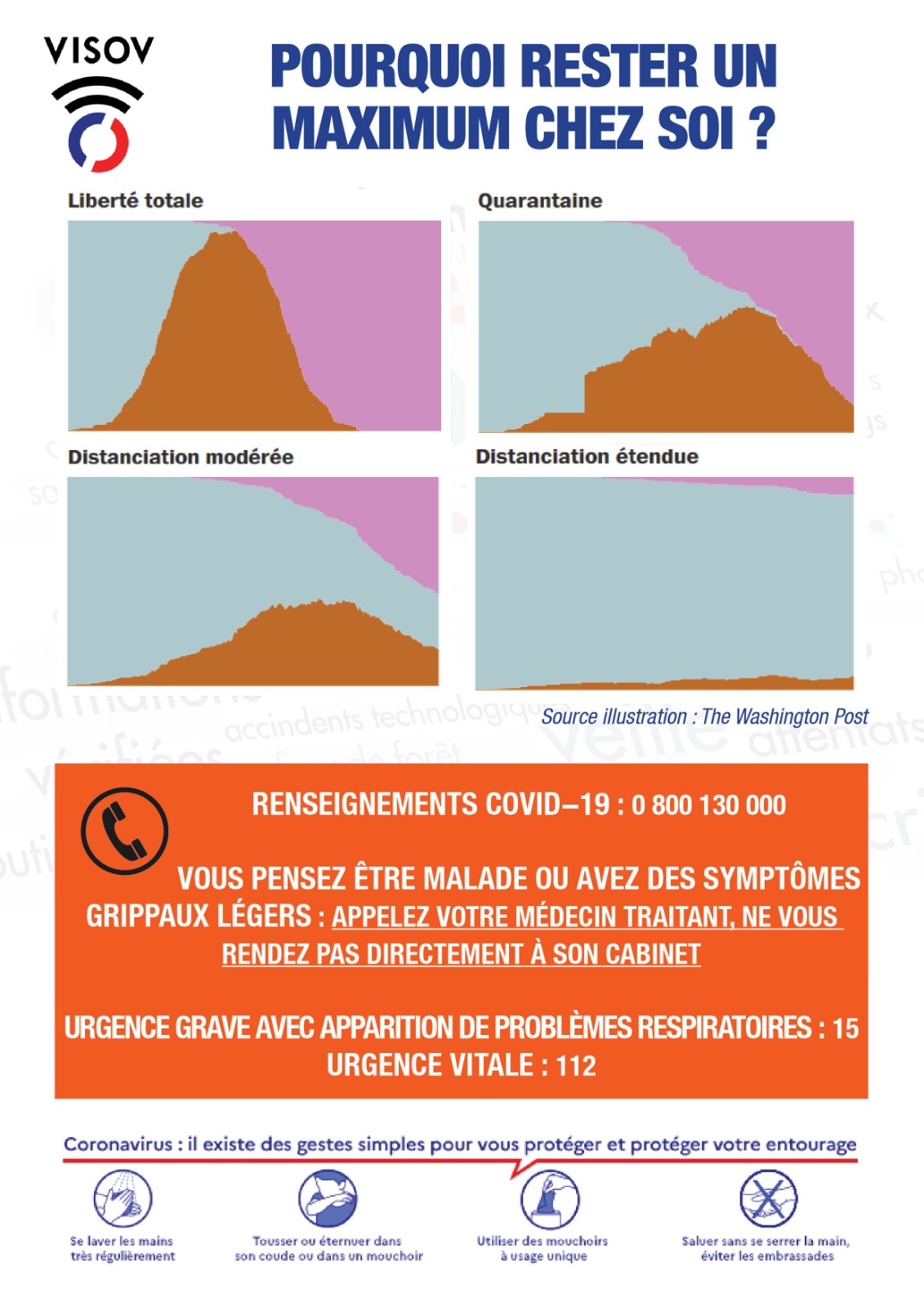 🔴#confinement
Pourquoi #RESTEZCHEZVOUS & limiter au max ses déplacements ? (Distanciation étendue)

📍Limiter très fortement la propagation du #COVID2019
↪️Limiter le nombre total de malades
↪️Limiter le nombre de malades graves
↪️Limiter le nombre de décès pic.twitter.com/HjNe5VpKGE

— VISOV | #MSGU (@VISOV1) March 18, 2020
Well this sure makes things easier… pic.twitter.com/mAca1kleUS

— Christine Rapp (@christinerappwx) March 18, 2020
This is the daily new cases in Italy chart. It's only four days but there appears to be some leveling. Will be interesting to see today's number in about an hour or so.

Hopefully they start, not just bending that curve, but smashing that curve, like Korea has done. pic.twitter.com/USasJASwHK

— Joe Weisenthal (@TheStalwart) March 18, 2020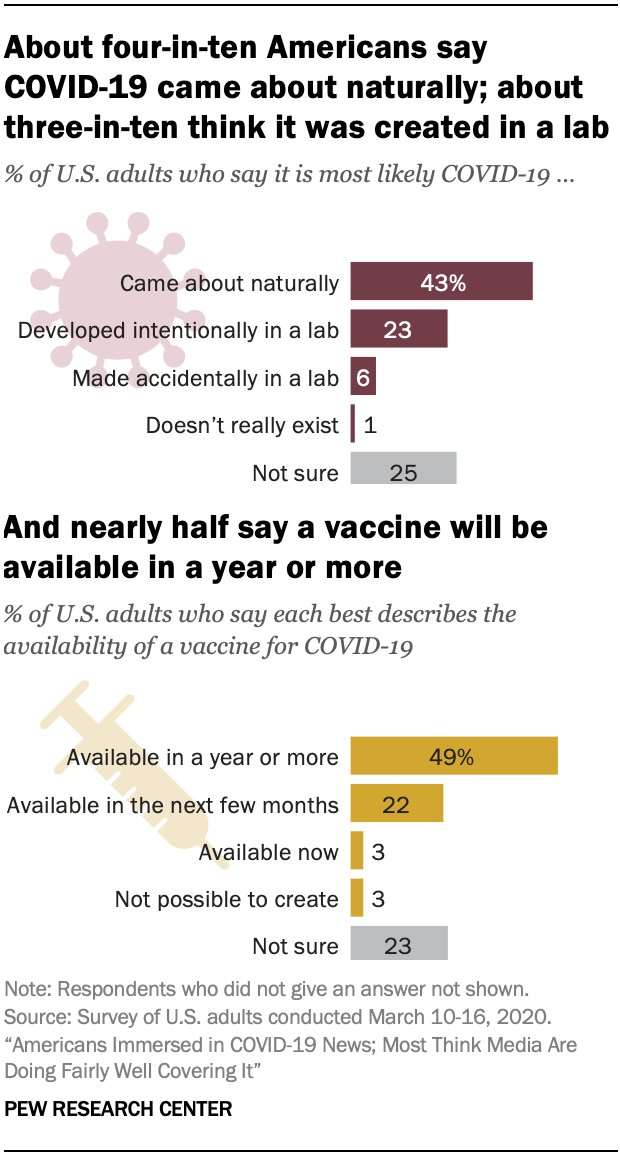 6% of Americans say COVID-19 was made accidentally in a lab, and 1% say the virus doesn't really exist. https://t.co/QZugRXgHMH pic.twitter.com/pKe67UXfuc

— Pew Research Center (@pewresearch) March 18, 2020
Passing the time creating new logos as per @UniWatch @MapleLeafs #SocialDistancing #HangInThere @NHL pic.twitter.com/Q9VE69TAy7

— Ross Taylor 🇨🇦 🏌️‍♂️ 🍺 (@roccot24) March 18, 2020
We understand that this may be a scary, uncertain time for families. Here at Ranger Rick, we want to help you stay engaged in the natural world. Our website and all the digital editions of our magazines are now free to all visitors for the next few months. https://t.co/Nb8SvvsORG pic.twitter.com/u2IF31JLhy

— RangerRick Magazines (@RangerRickMags) March 17, 2020
As the smallest market in the AHL, we don't have the luxury of a billionaire owner. It's all locally owned and operated. This hits home for ALL employees of the Utica Comets and our building.

That's why we're selling the shirts.

Buy: https://t.co/sEgd6dzn3A#PuckTheVirus pic.twitter.com/yEcIoeotTX

— Alicia Daddario (@AliciaDaddario) March 14, 2020
Important during these difficult times to practice #SocialDistancing #RollTide pic.twitter.com/FtEzSc9m4k

— Chicago Gump (@GriffinTSmith) March 17, 2020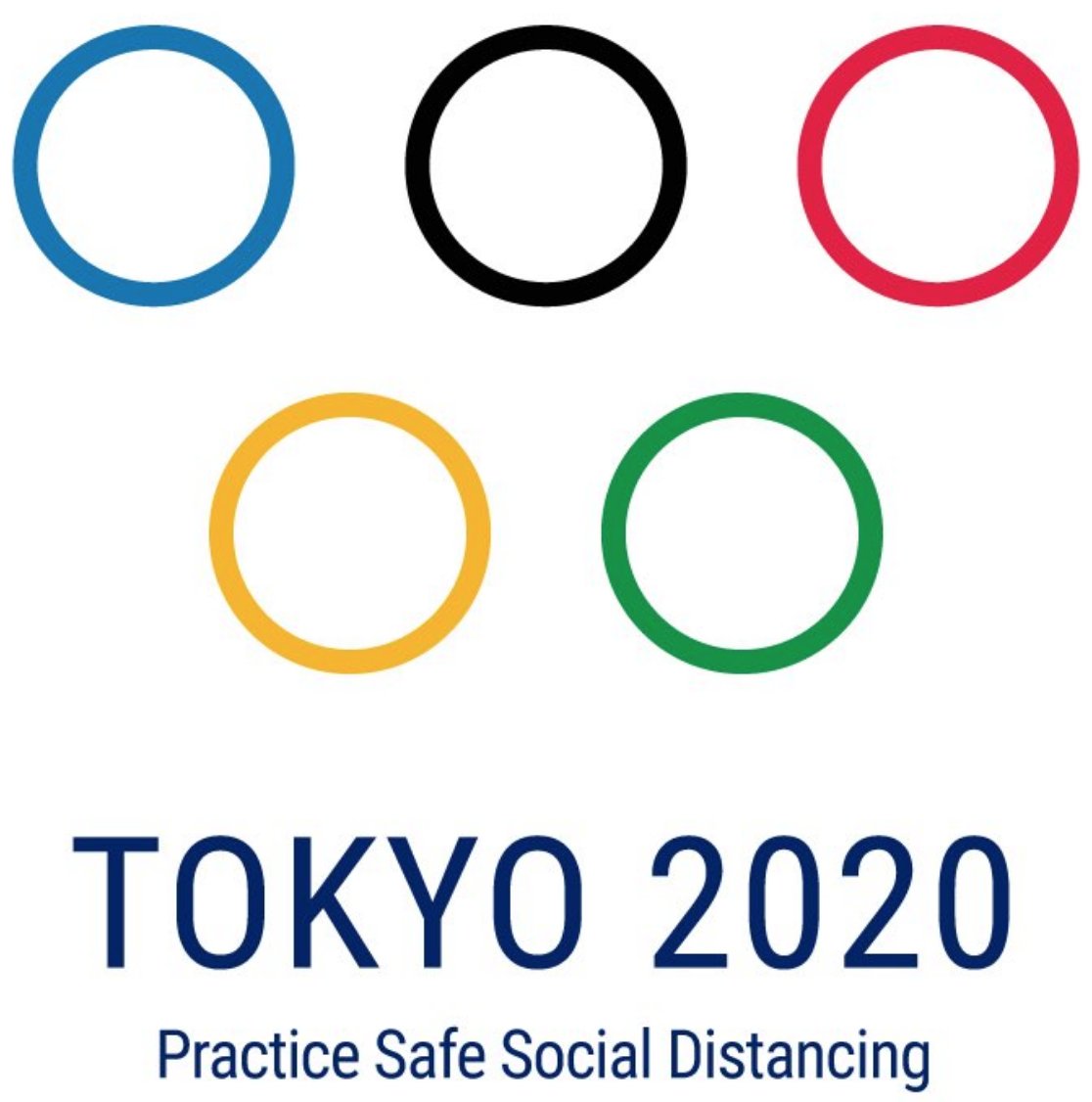 Some folks are redesigning sports logos to make them pandemic-appropriate. If you'd like to redesign a team, league, or event logo to promote good pandemic hygiene, I'd love to see it. (And please, don't just turn a mascot into a mask-ot — that's too easy!) pic.twitter.com/cGXaNd0sR2

— Paul Lukas (@UniWatch) March 18, 2020
Is it OK to have close friends over to visit?

This and more of your questions on #SocialDistanacing, answered: https://t.co/6KgxuUEiWx pic.twitter.com/XXVLLlLnqL

— Life Kit (@NPRLifeKit) March 18, 2020
Breaking: Very disheartening new data from #Italy.
New cases: 4207 up from 3526 yesterday
New deaths: 475 up from 345 yesterday.

I have far less confidence that Italy is plateauing & that their measures are #flatteningthecurve, just YET. Will have another update on this soon. pic.twitter.com/77g8xHhZCB

— (((Howard Forman))) (@thehowie) March 18, 2020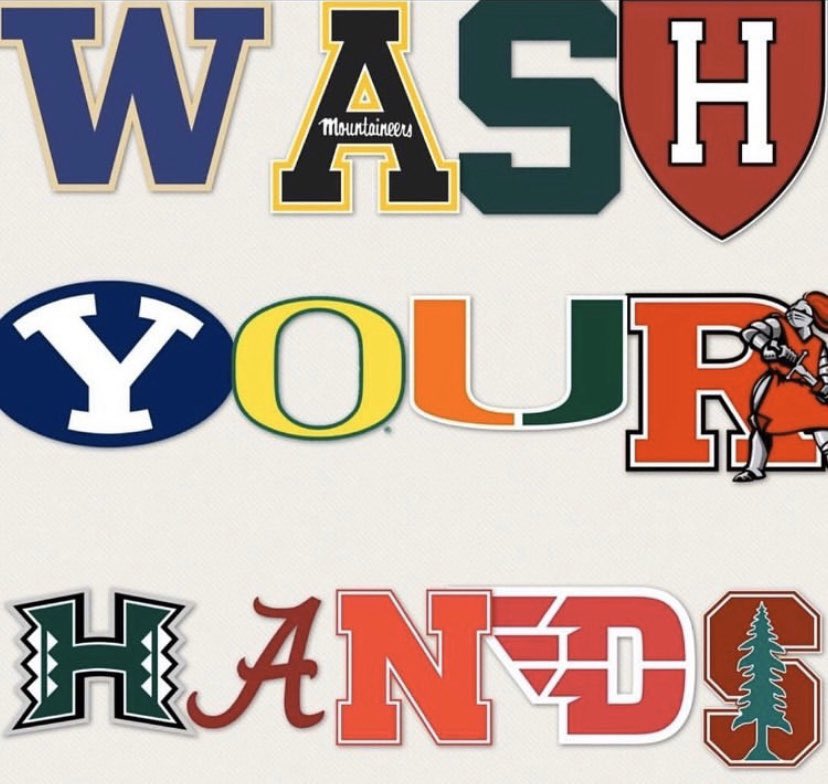 Please and thank you! @OldRowOfficial pic.twitter.com/wLSMJDxo6d

— Old Row Montana (@oldrowmontana) March 18, 2020
One of the most important things you can do to ensure we don't have another healthcare crisis on top of the #coronavirus is to give blood. This blood shortage could impact patients who depend on lifesaving blood to survive. If you are healthy, give now: https://t.co/0eGLg9xhvE pic.twitter.com/0ktCFt72Tr

— Red Cross Virginia (@VARedCross) March 18, 2020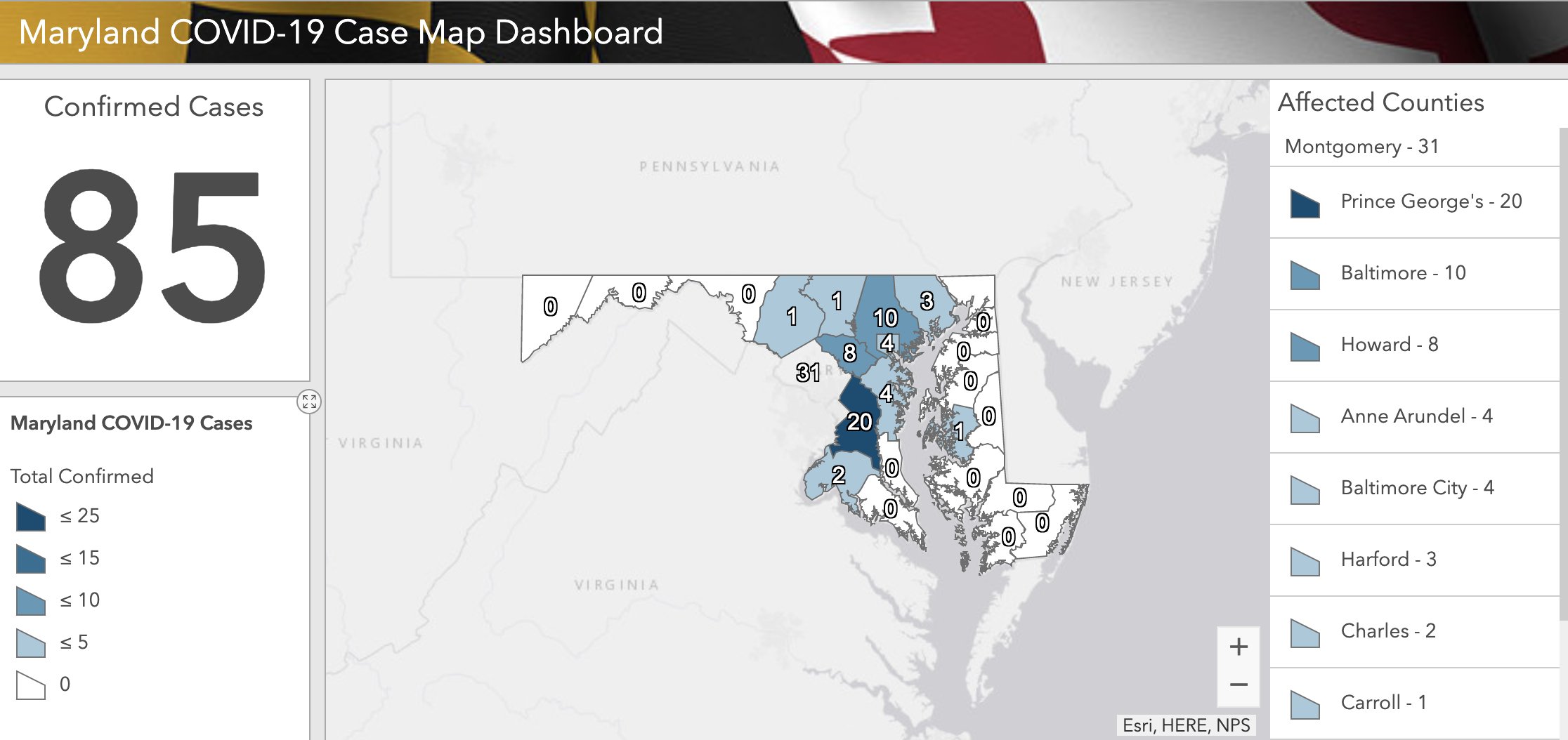 Due to the rapidly evolving #COVID19 public health crisis, @MDMEMA will update Maryland's case map dashboard daily at 10 a.m. based on the most recently available data from across the state: https://t.co/lc55gf4rAH pic.twitter.com/sg2swjYkqX

— Maryland Department of Health (@MDHealthDept) March 18, 2020
Stop the spread of #COVID19! Know the symptoms. pic.twitter.com/gbHWhcLRs2

— EVMS (@EVMSedu) March 18, 2020
As we practice social distancing in #Cfield, please remember:
– If you must go out, keep 6 ft. between others.
– If you need supplies, get what is needed but leave some for your neighbors.
– Stay in touch via phone or video chat.@CFEMSPIO @CCPDVa @CCPRVA @CCPLVA @CCSOVA pic.twitter.com/qPSMzPFQJh

— Chesterfield County (@ChesterfieldVa) March 18, 2020
If you see excessive price increases for #coronavirus (#COVID19) necessities, report it to @MarkHerringVA's office. ➡️ https://t.co/IU8d9c8QuY #COVID19Va pic.twitter.com/Q9T3PMbQyI

— VDEM (@VDEM) March 18, 2020
It's the law 🤷‍♂️ pic.twitter.com/l4clkLRqO1

— BikePGH (@BikePGH) March 18, 2020
March 17 (Happy St. Paddy's Day! I am not Irish.)
Social distancing is one of the best ways to slow the spread of #COVID19. What does it look like?
◾️Stay 6 feet away from others
◾️Avoid large gatherings and crowded spaces
◾️Avoid close contact, like hugs and high fives

Learn more at https://t.co/IjnLrG4fh5 pic.twitter.com/IbHWSxmyr6

— Old Dominion University (@ODU) March 17, 2020
#DYK? Even though stories about #COVID19 in the news may contain images of people wearing surgical masks to ward off the virus, it is actually not a recommended prevention measure. Find out proactive, preventive measures you can take: https://t.co/aMh1Rbs7Xb #Coronavirus pic.twitter.com/TXCkU26xUq

— TRICARE (@TRICARE) March 18, 2020
The first coronavirus cases in the U.S. and South Korea were discovered around the same time in January, but you can see that according to official government accounts, the U.S. tested far fewer patients in the weeks after. 2/ pic.twitter.com/4AM8j7OnCo

— NYT Graphics (@nytgraphics) March 17, 2020
My antiviral story now has a fab illustration from @13pt showing how scientists have built a map of #covid-19's interactions with our own proteins—a map that has pointed to 50 candidate drugs now being tested https://t.co/wzCNoMnhqD pic.twitter.com/L2frL7nrbe

— Carl Zimmer (@carlzimmer) March 17, 2020
@GovofCO announcing the state has launched https://t.co/SpIH3nJlBh where data on the latest information will be posted daily around 4 PM. As of tonight,#colorado has 183 cases in 19 counties across the state. Sadly, with 2 deaths. #COVID #coronavirus pic.twitter.com/8LBJtGs668

— Tak Landrock (@TakLandrock) March 17, 2020
2. Here is a very simple metaphor for thinking about this.

Imagine you are piloting an ocean liner through a narrow strait in a mild fog by visual cues alone.

There's a lighthouse that helps, but you have to be close up to see it. pic.twitter.com/SB3YPegeie

— Carl T. Bergstrom (@CT_Bergstrom) March 17, 2020
Alright, who did this?#COVID19 #coronavirus pic.twitter.com/WbuUJiuezy

— Carl T. Bergstrom (@CT_Bergstrom) March 17, 2020
New: A chain message on iMessage and WhatsApp claims the U.S. is announcing a nationwide quarantine soon. That's false. https://t.co/YikHjp1NfS pic.twitter.com/tx8PHJKSBS

— Daniel Funke (@dpfunke) March 17, 2020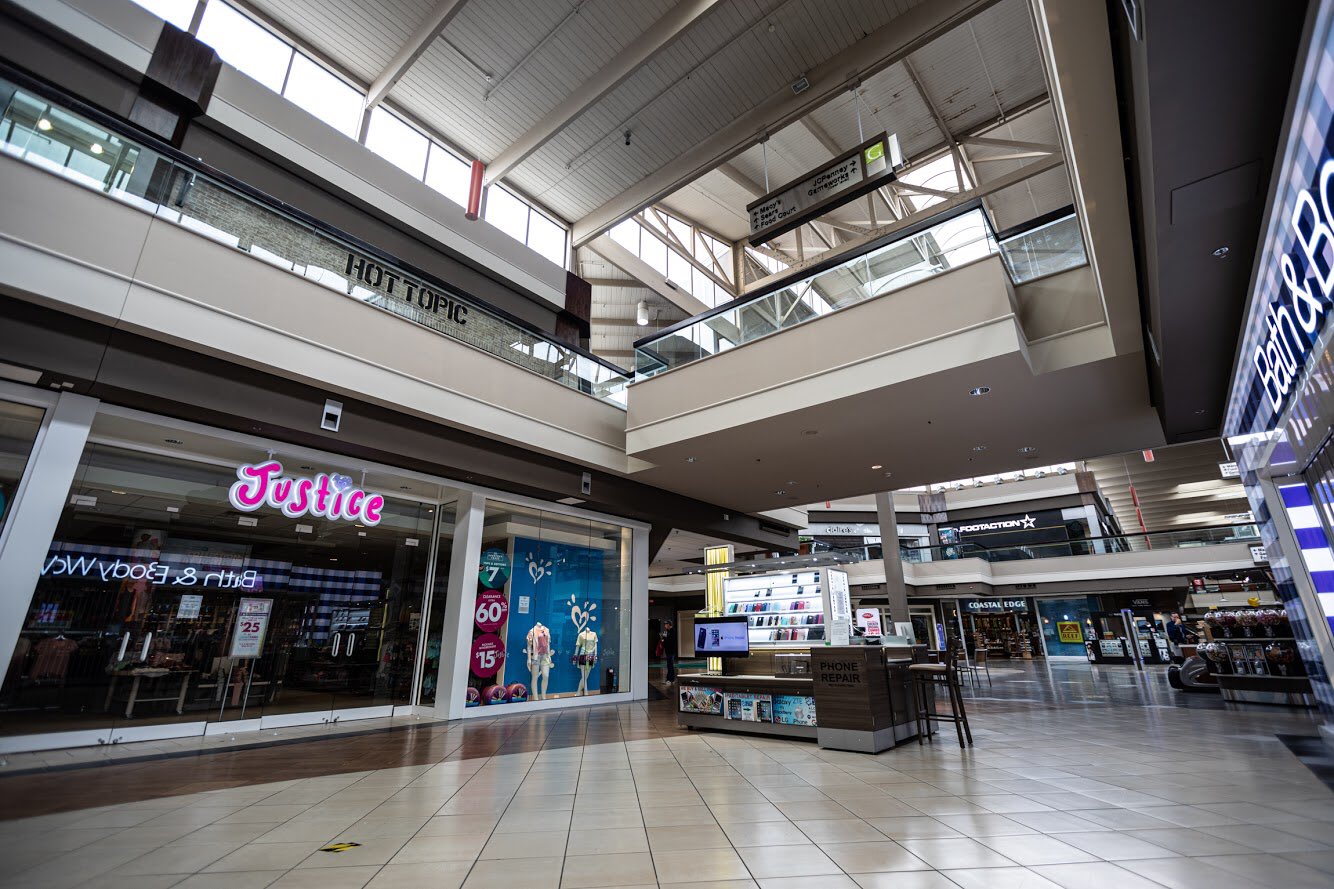 Greenbrier Mall in Chesapeake remains open, but is a ghost town. #13NewsNow pic.twitter.com/qs5BusOAkP

— Stephen Wozny (@woznyphoto) March 17, 2020
American society right now. pic.twitter.com/i1dQZiJfkN

— Super 70s Sports (@Super70sSports) March 17, 2020
Google Trends has a dedicated Coronavirus dashboard in multiple languages (here's the link to the US one). You can do granular searches by location to see what people are asking questions about. https://t.co/w7SVn9GUl5 pic.twitter.com/1SASk6jhFk

— Claire Wardle (@cward1e) March 17, 2020
How to be a New Yorker while self isolating. cc: @desusnice @THEKIDMERO @Mr_Camron @naomiotsu pic.twitter.com/BAbPFsOs9g

— Nicolas Heller (@NuevaYorkNico) March 17, 2020
Today we published a historical perspective of how this #COVID19 outflow episode compares to other stress episodes, such as the #tapertantrum or #GFC https://t.co/pg9KslHYRq pic.twitter.com/XmSd1yTnfV

— Jonathan Fortun (@econchart) March 17, 2020
It takes every Coloradan to stop the spread of COVID-19. Help spread the word and share this to your profile if you're doing your part.

Thank you to everyone who is paying attention, following guidance, and putting the health of ourselves and our community first. #DoingMyPartCO pic.twitter.com/UfUp703QYK

— Jared Polis (@GovofCO) March 17, 2020
🔹 Tips from @OhioMHAS for managing stress related to #COVID19: https://t.co/l3QltEsjfq#COVID19OhioReady pic.twitter.com/gKpAkTOZS7

— Governor Mike DeWine (@GovMikeDeWine) March 17, 2020
Here's a guide with seven ways to avoid falling for some of the most common falsehoods about the coronavirus https://t.co/udHju3bW4D pic.twitter.com/UoDOYREZuj

— Poynter (@Poynter) March 17, 2020
We'll have another update for you coming up today at 2 pm.

📺 TV: Ohio's @PBS stations
📻 RADIO: Ohio's @NPR affiliates
💻 ONLINE: https://t.co/90BcIYqI19#COVID19 #COVID19OhioReady pic.twitter.com/VBlCOWPGDz

— Governor Mike DeWine (@GovMikeDeWine) March 17, 2020
We may not be able to come together in a way that feels normal or familiar, but we are always connected through music and art.

A message from Sub Pop (in the Time of COVID-19): https://t.co/bTWj0WQkkw pic.twitter.com/EQzPq2VRCB

— Sub Pop Records (@subpop) March 17, 2020
Confirmed US #COVID-19 cases have surpassed 5,000 today; 94 deaths reported nationwide @MSNBC pic.twitter.com/QF24fnKsoB

— Jesse Rodriguez (@JesseRodriguez) March 17, 2020
Saw this the other day… Only here.. pic.twitter.com/IpsQgQvyCT

— Tiffany Davis (@T_Dave15) March 17, 2020
#USNavy family, we all play a part in maintaining healthy environments to combat the spread of #COVID19. Break away and take care of ourselves while taking care of others. #SocialDistancing

Stay informed: https://t.co/SZxsGEk0uY pic.twitter.com/PG7OHXaL2o

— U.S. Fleet Forces (@USFleetForces) March 17, 2020
TO RECAP: Henrico now has 2 confirmed COVID-19 cases in the County. Yesterday we learned a woman in her 20s tested positive after returning from North Carolina. Today we learned a man in his 80s has tested positive after returning from Florida. #HenricoNews #VAnews #NBC12 pic.twitter.com/9SCgmZJQvV

— Karina Bolster (@KarinaNBC12) March 17, 2020
The MHS Nurse Advice Line (NAL) is experiencing large call volumes and wait times. We are working on it but first, please check out these FAQs: https://t.co/80DZmLITUQ. If you think you've been exposed and you have symptoms, contact the NAL or your provider first. #COVID19 pic.twitter.com/J9CdnuxbRQ

— TRICARE (@TRICARE) March 17, 2020
Virginia's health is in your hands. 👐#SocialDistancing can help slow the spread of #COVID19.
Learn more about how you can do your part at https://t.co/recqOwtlzx #FightTheSpreadVA #COVID19VA pic.twitter.com/FRzQrWXWUk

— VDEM (@VDEM) March 17, 2020
Don't miss this opportunity to chat with TRICARE today, March 17 from 3:00 PM to 4:00 PM ET, for all your questions about #COVID19! Join us for a live Facebook Townhall with medical experts from the @DoD_DHA. #Coronavirus pic.twitter.com/5eaBVqVxQg

— TRICARE (@TRICARE) March 17, 2020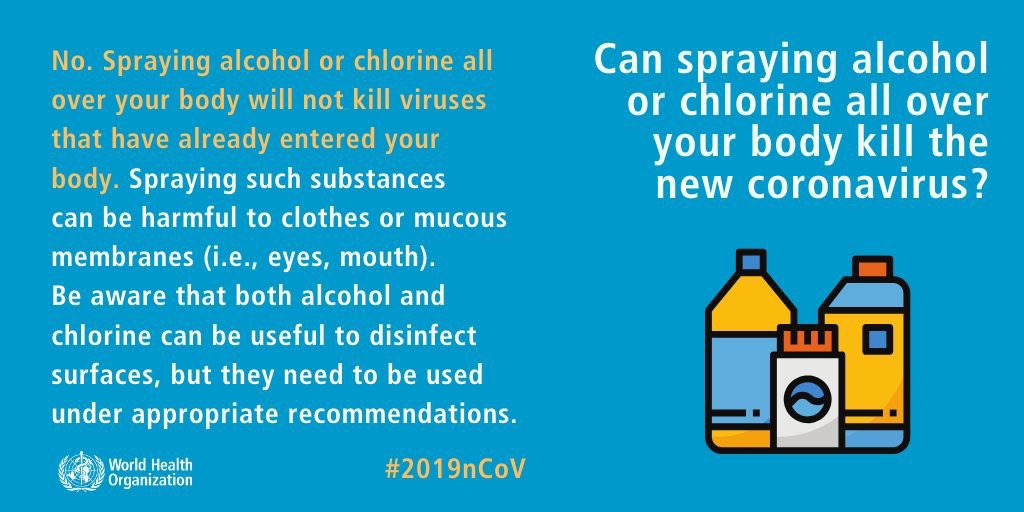 Hearing conflicting advice? World Health Organization has made it easy for us by answering some common myths!
For more myth busters, visit: https://t.co/thFT6q0bp7 pic.twitter.com/Na3MogJr6K

— Navy Region Mid-Lant (@CNRMA) March 17, 2020
about 125 people per million have been tested in the United States — far fewer than most other countries where data is available. https://t.co/GsXcjEKarK pic.twitter.com/MEkSKftKWq

— Catherine Rampell (@crampell) March 17, 2020
March 16
There currently are no vaccines, pills, potions, lotions, lozenges or other prescription or over-the-counter products available to treat/cure #coronavirus (#COVID19). Coronavirus-related ad claims will be subject to exacting scrutiny. More on the biz blog: https://t.co/U4jdCwy9AJ pic.twitter.com/ty1HnzPw4g

— FTC (@FTC) March 16, 2020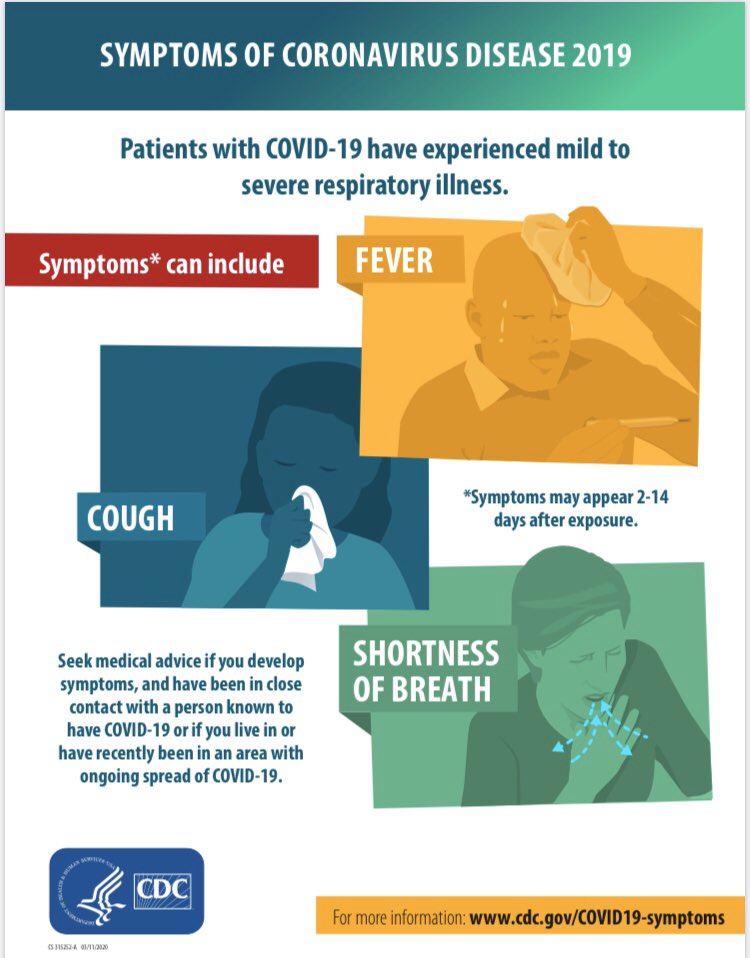 PLEASE SHARE: Facts and symptoms of the coronavirus from the CDC. Hope everyone is staying safe and staying informed! pic.twitter.com/RDsDlI0uSH

— Samantha German (@samantha_german) March 16, 2020
خفِّف من انتشار فيروس الكورونا (كوفيد-19)
من واجب كل فردٍ منّا أن يساهم في الحدّ من انتشار فيروس الكورونا (كوفيد-19). ولذلك، لا تستهترْ واتبع الإرشادات التالية:
⇦ إغسلْ يديكَ جيّدًا؛
⇦ مارسْ عملكَ عن بُعد، إذا كان ذلك ممكنًا؛
⇦ حافظ على مسافة البعد الاجتماعيّ التي يُنصَحُ به pic.twitter.com/Y7DSjZQjok

— VDEM (@VDEM) March 17, 2020
전파를 멈춥시다. 코로나바이러스(#COVID19) 전파를 막는 일은 우리 모두의 책임입니다. 다음
사항을 준수하세요:
– 손을 씻습니다
– 가능하다면 재택 근무합니다
– 사회적 거리 두기를 실천합니다
최신 COVID-19 확진 통계 및 지역별 사례 지도는 VDH 웹사이트에 방문하세요: https://t.co/GUqFp4gLCP pic.twitter.com/VgfXRXfsrh

— VDEM (@VDEM) March 17, 2020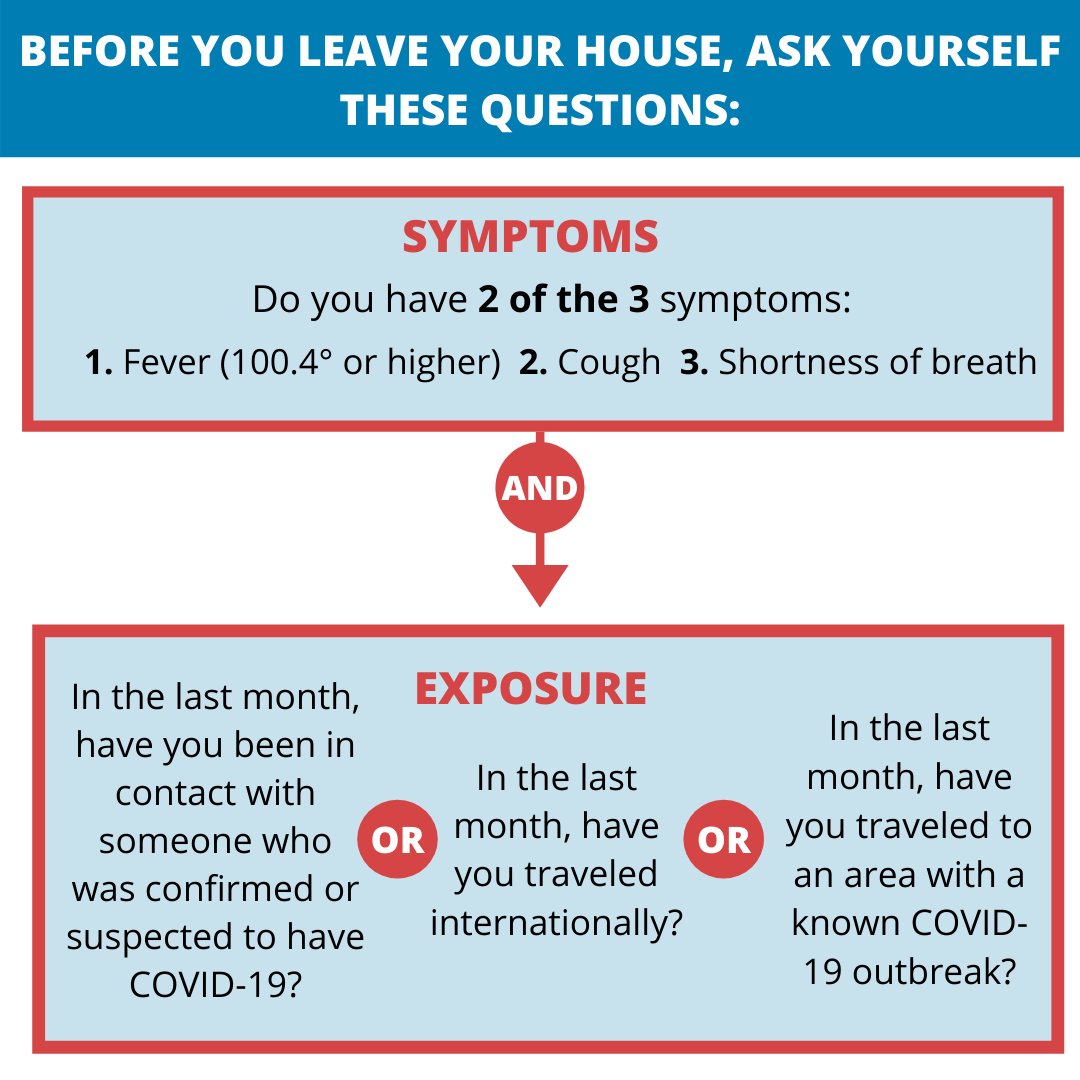 We urge our community to review the following information before accessing our drive-thru screening. With limited testing supplies and availability here & across the US, we want to ensure testing capabilities are reserved for those at the highest risk. https://t.co/jN5jhf3Xpm pic.twitter.com/53zdPaWYiK

— Sentara Healthcare (@sentarahealth) March 16, 2020
While our physical library locations are closed to the public, the library's large collection of digital resources gives you online access to eBooks, audiobooks, magazines, learning tools, homework help, newspapers and more. https://t.co/M21HbRYp7Q pic.twitter.com/WsOCOaqKiN

— Fairfax Library (@fairfaxlibrary) March 16, 2020
Virginia has now seen two deaths due to the COVID-19 outbreak, both in the Peninsula.

This time, it was a man in his 70s who got the virus through an unknown source. https://t.co/R1boI8u3Ve pic.twitter.com/OMeSVe2RLO

— Peter Coutu demands a contract! (@ByPeterCoutu) March 16, 2020
Social distancing can help slow the spread of #COVID19 in affected communities. This means avoiding crowded places and maintaining distance from others. More prevention tips: https://t.co/bUyobRHpCE. pic.twitter.com/IQjSwRxIzn

— CDC (@CDCgov) March 16, 2020
Did you hear a myth that there are no symptoms of #COVID19, #Coronavirus? Signs and symptoms include fever, cough, and shortness of breath. To learn more, visit: https://t.co/sfu9Yj1vP5 pic.twitter.com/6JfgnmaSTe

— TRICARE (@TRICARE) March 16, 2020
Learn to recognize the symptoms of #COVID19. For more information, visit the Public Health Agency Canada website. If you are concerned you may have COVID-19, call your local healthcare provider. More tips here: https://t.co/lZLhMa4FX1 pic.twitter.com/s2sIp56pQM

— Canadian Red Cross (@redcrosscanada) March 16, 2020
Philosophy and Ethics in the Age of Corona Virus … https://t.co/RSzxbdOOQP pic.twitter.com/x5ra3deDvD

— Philosophy Matters (@PhilosophyMttrs) March 17, 2020
When your mom and sister do a stock photo shoot a couple years ago… #coronafamous #WashYourHands pic.twitter.com/KSeaCtVHWi

— Madeline A.D. Brewer (@madelineab) March 16, 2020
For those of you that have forgotten high school Chemistry pic.twitter.com/9VOyovjYjD

— Joseph Puopolo (@jpuopolo) March 16, 2020
March 15
Virginia's health is in your hands. 👐

If we all do our part, we can have a major effect on #COVID19. Know what to do, and where things stand.
Go to @VDHgov at https://t.co/N2NYjAOWub or @VDEM at https://t.co/njHkNhGHCE for reliable information. #FightTheSpreadVA #COVID19VA pic.twitter.com/9CtG4uDJNR

— VDEM (@VDEM) March 15, 2020
STOP THE SPREAD: Virginia's health is in your hands. 👐

Yes, #Virginia, you can take steps to stop #COVID19.
Find out how. Go to @VDHgov at https://t.co/N2NYjAOWub or @VDEM at https://t.co/njHkNhGHCE for information you can trust.#FightTheSpreadVA #COVID19VA pic.twitter.com/nD1xw7BiSQ

— VDEM (@VDEM) March 15, 2020
As of 10:30 a.m. ET, there are 2,980 confirmed coronavirus cases in the US, and 60 deaths. https://t.co/oNpCHSm7ek pic.twitter.com/3BDncUtIxg

— NBC News (@NBCNews) March 15, 2020
Todos somos responsables ayudar detener la propagación de coronavirus (COVID-19). Asegurar:
➡️Lavarse las manos
➡️Trabaja de manera remota
➡️Práctica distancia social
Conoce adonde encontrar información confiable @VDHgov y @VDEM. https://t.co/kR5hU621Eu pic.twitter.com/n59yasXsxe

— Va Dept of Health (@VDHgov) March 15, 2020
Protect Ya Neck against the Coronavirus. We are making a few thousand prints and distributing them across New York City. Feel FREE to do the same in your City.
Share and RT this to the world. #wutang pic.twitter.com/coS5M3WdiW

— Wu Tang Clan (@WuTangClan) March 15, 2020
Powerful new ad campaign from the Baltimore City Health Department. pic.twitter.com/3FeXSxXjh6

— Alec MacGillis (@AlecMacGillis) March 16, 2020
If you have a fever, cough, or shortness of breath, but have not been around anyone you know has COVID-19, follow these steps to help prevent your illness from spreading to people in your home and community. https://t.co/3ajG4MXAdN #COVID19colorado pic.twitter.com/aX8grKeIOG

— Colorado Department of Public Health & Environment (@CDPHE) March 15, 2020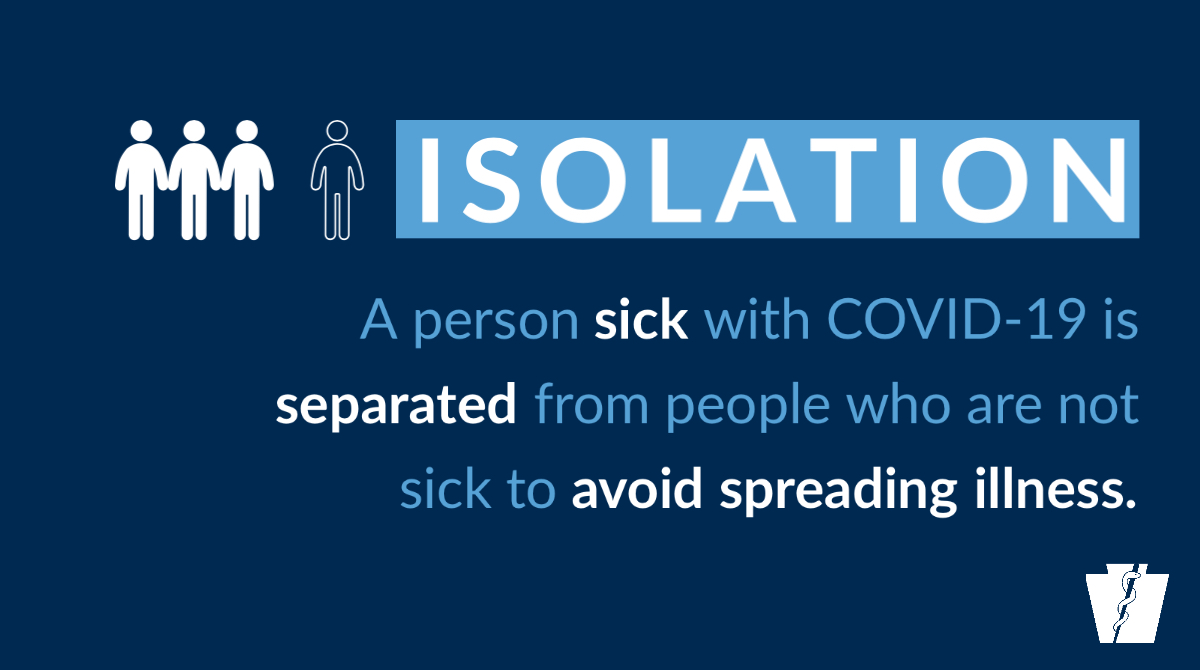 Quarantine and isolation both mean being away from others to avoid spreading #COVID19—but that doesn't mean being lonely.

Connect with family, loved ones + friends via phone 📱, text 💬 or video call 🤳—all without spreading illness. pic.twitter.com/Nmx65scKa8

— PA Department of Health (@PAHealthDept) March 15, 2020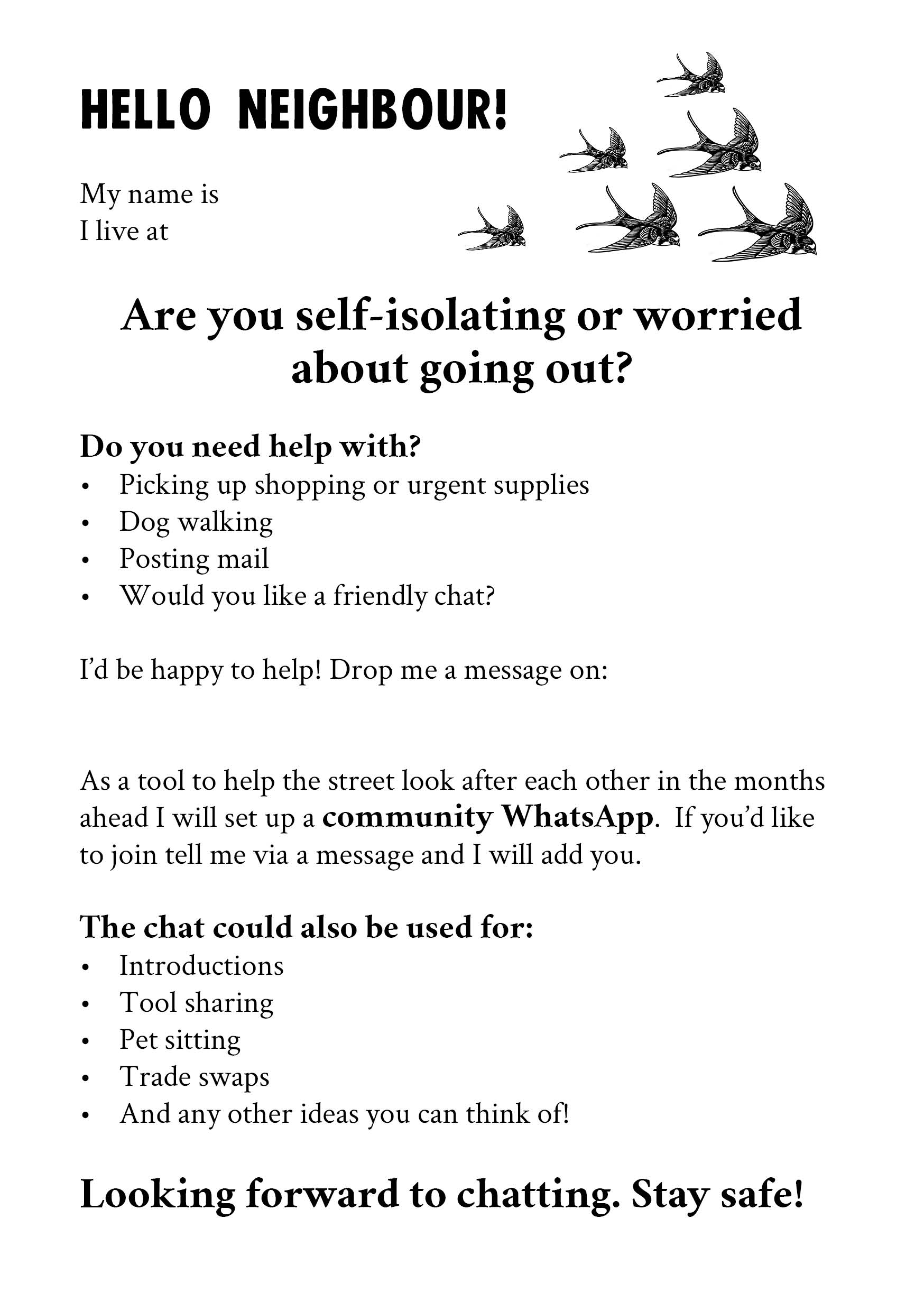 Rebels,

Now is the time to use our numbers and skills to support our communities. If you wish you can print off the below to post through doors on your street,

Rooted in love.
We are all we need💚

(Remember to wash your hands before handling and take all sensible precautions) pic.twitter.com/9L5IRasVTJ

— Extinction Rebellion UK 🌍 (@XRebellionUK) March 15, 2020
March 14
The more you overstock those supplies, the less is available for your sick neighbors, and for doctors, dentists, and emergency response personnel.
https://t.co/ExAmHIdE7k pic.twitter.com/pBseFMPZ72

— WA Dept. of Health (@WADeptHealth) March 15, 2020
Some good tips from our friends @Nextdoor to help support your neighbours during #COVIDー19 pic.twitter.com/LvrEaO0XCW

— Canadian Red Cross (@redcrosscanada) March 14, 2020
Information on hygiene practices from public health has been distributed to schools and parents across the province. The department has also provided information to regulated child care centres. Further information can be found here https://t.co/q4BPwrpR6l pic.twitter.com/bMcKIe2xtG

— Education and Early Childhood Development NL (@EDU_GovNL) March 14, 2020
#Coronavirus #Covid19 | Que faire si la maladie s'aggrave ?

Si après quelques jours, les signes ne disparaissent pas avec du repos :
❌ Je ne me rends pas à l'hôpital
✅ J'appelle le 15 ou le 114 (personnes malentendantes)

Questions :
💻 https://t.co/lMMn8iogJB
📲 0 800 130 000 pic.twitter.com/CdhkB5WFP5

— Ministère des Solidarités et de la Santé (@MinSoliSante) March 14, 2020
if you're over 50 and/or have:

-Lung disease
-Heart disease
-Diabetes
-Cancer
-Weakened immune system

Take EXTRA precautions during the COVID-19 crisis. Head to https://t.co/7T1e77CTyc for more. pic.twitter.com/tTvsvx3d0u

— City of New York (@nycgov) March 14, 2020
March 13
Stop the spread of #COVID19. Protect yourself: wash your hands, telework if possible and practice social distancing. Stay informed: https://t.co/9D5oFjCTb2 pic.twitter.com/ovb7cTkeiM

— Va Dept of Health (@VDHgov) March 13, 2020
Testing for COVID-19 is only indicated when a person is symptomatic. Testing when there are no symptoms does not tell you whether the person will go on to develop COVID-19 infection nor can it be used to 'clear' someone to return to work or school. (1/2) pic.twitter.com/QF1AO5jBYM

— Government of NB (@Gov_NB) March 13, 2020
Wondering if you should get tested for #COVID19? Or is it just a common cold? Here are the symptoms you should look for. pic.twitter.com/bmmuORm2cO

— CBC Morning Live (@CBCMorningLive) March 13, 2020
March 12
Know the difference in symptoms. If you're feeling sick, call your doctor first, before going in. Learn more on our website: https://t.co/vg4tN6d7vM #COVID19 #COVID19OhioReady pic.twitter.com/wfGPoYRLvC

— Ohio Dept of Health (@OHdeptofhealth) March 13, 2020
As many people start to get sick with the flu and COVID-19 spreads, here's a look comparing the symptoms between COVID-19 (coronavirus) and the flu. pic.twitter.com/LiBOfOkodh

— Jared Polis (@GovofCO) March 12, 2020
Virginia Health Bulletin, October 1918: pic.twitter.com/bbmVuVOUsH

— taber טבור (@taber) March 12, 2020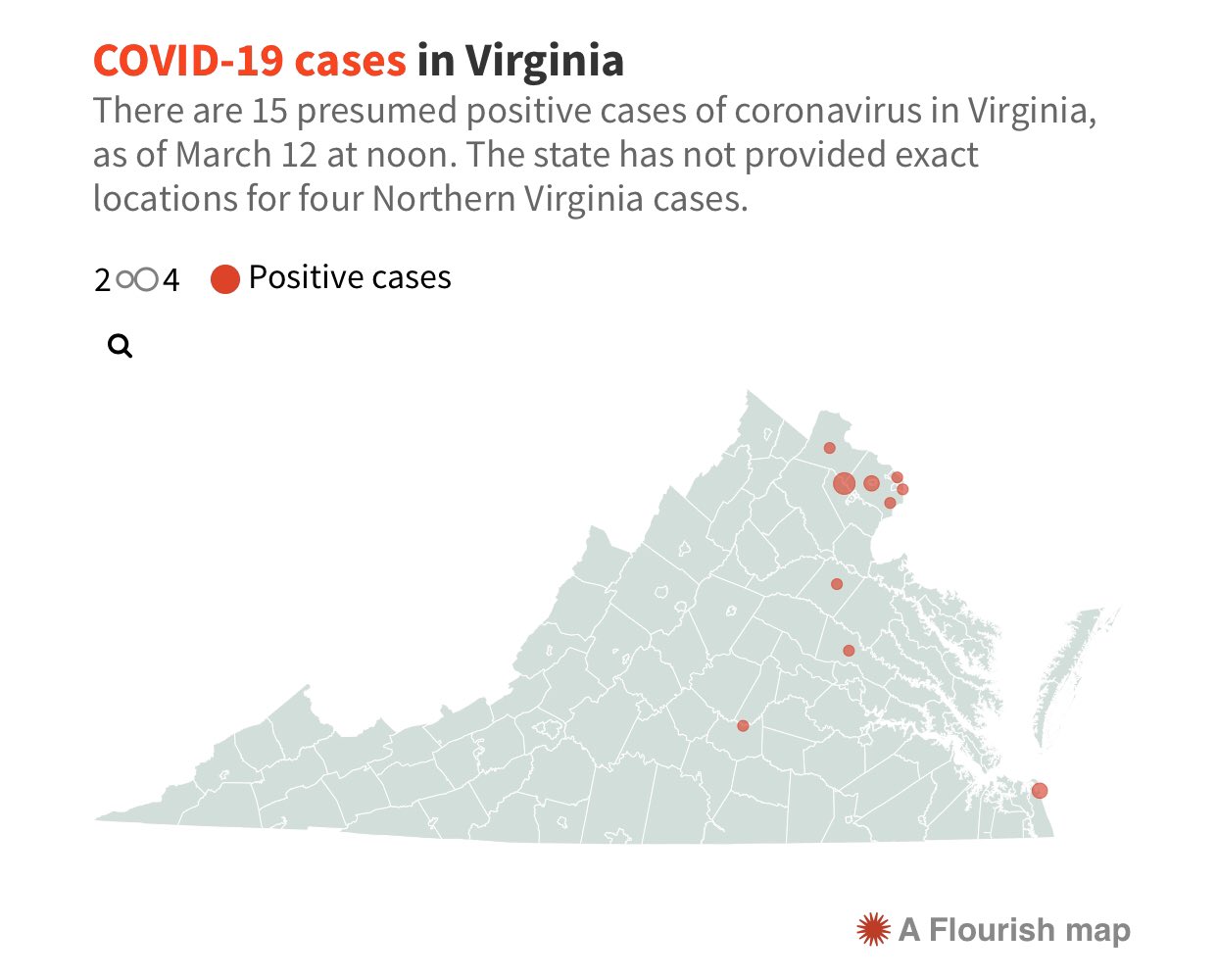 We're mapping the COVID-19 outbreak in Virginia.

This @virginianpilot page will be routinely updated as the state reports more cases — and there's a table at the bottom if you want to read more about individual cases.https://t.co/RwKOKI52uV pic.twitter.com/j1LRo71XYi

— Peter Coutu demands a contract! (@ByPeterCoutu) March 12, 2020
March 11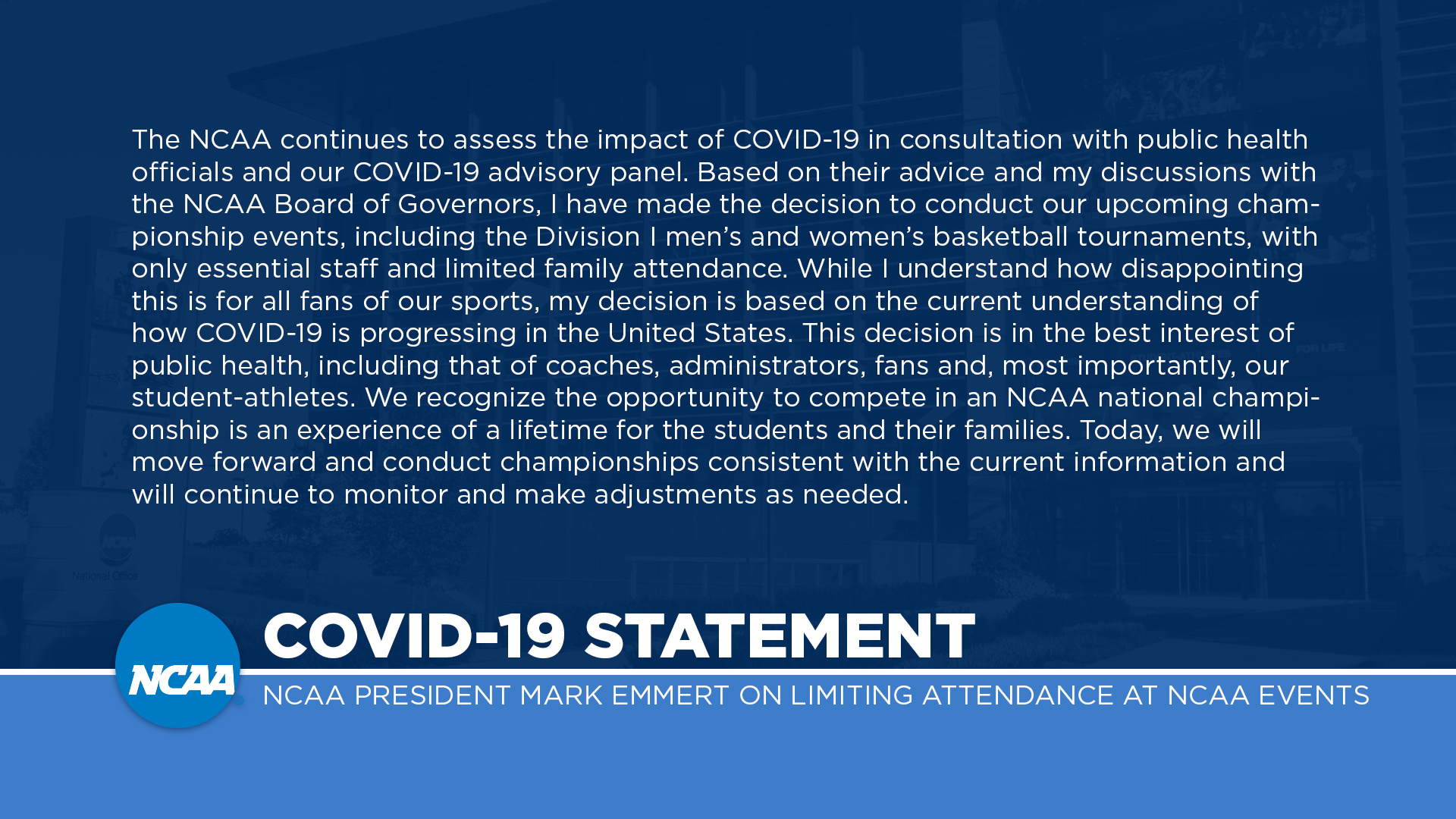 NCAA President Mark Emmert statement on limiting attendance at NCAA events: https://t.co/TIHHJjdse5 pic.twitter.com/8I1HdceDfN

— NCAA (@NCAA) March 11, 2020
Join CDC for a Twitter Q&A on #COVID19. CDC Deputy Director for Infectious Diseases, Dr. Jay Butler, will answer questions about coronavirus this Friday, March 13. Join us on Twitter to ask your question now: https://t.co/qrET3VzhxS. pic.twitter.com/ePEsP9NXRh

— CDC (@CDCgov) March 11, 2020
As a matter of historical accuracy, filmmakers in the future, when portraying 2020, will want to note the abundance of this new type of litter in our streets. #coronavirus #COVID19 #litter pic.twitter.com/X6uFQQF0Ny

— kevin abosch (@kevinabosch) March 11, 2020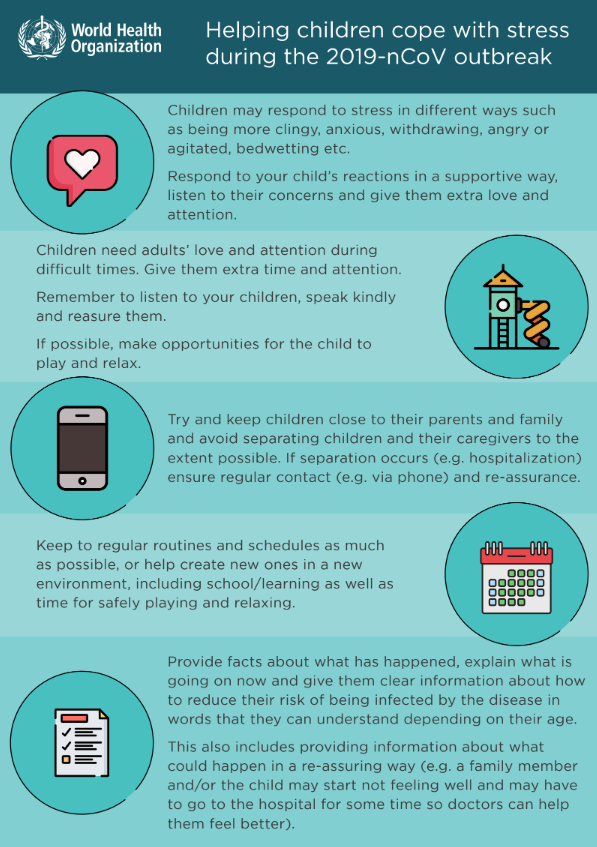 As the talk about #COVID19 becomes more intense, I've found these stress-busting tips from the @WHO about #coronavirus useful for me and my family… You might find them useful too… pic.twitter.com/W2suIGxFCH

— Diarmaid Mac Mathúna (@diarmaidmacm) March 11, 2020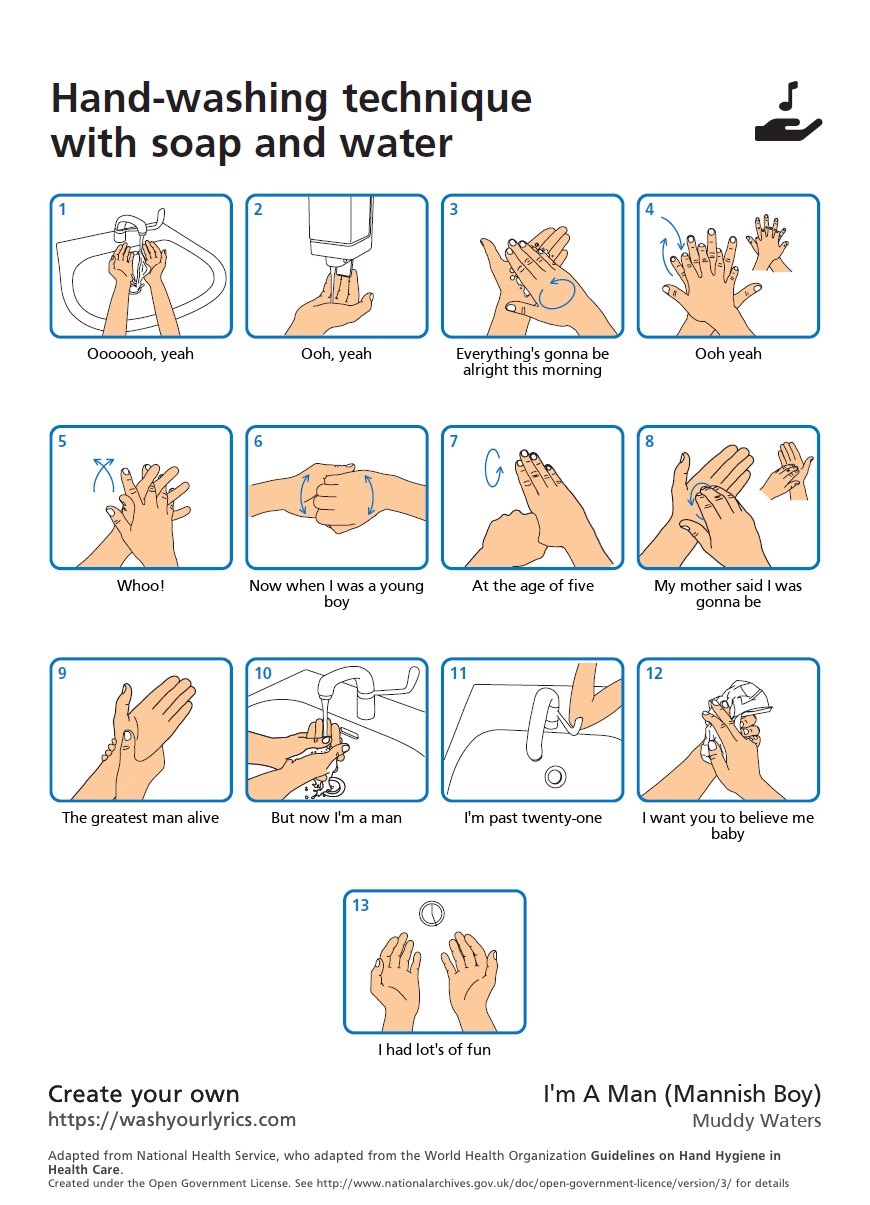 i've now spent enough time on this that i feel like i need to invoice you, Ryan 😂🤣🤔 https://t.co/MMad6quruP pic.twitter.com/e4GKeVZ5qJ

— b.s. brewër (@bs_brewer) March 11, 2020
March 8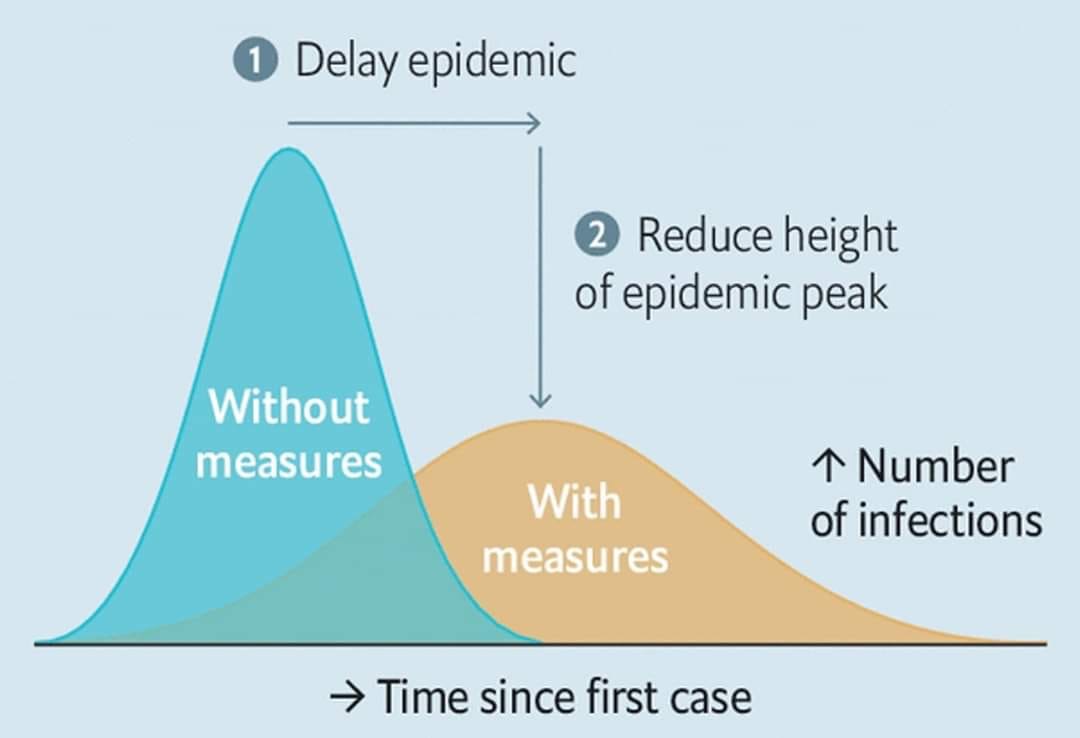 Some thoughtful, non-hysterical and necessary context and perspective on #COVID19 from @SentinelChicken — an actual medical professional in his day job. Which he does very, very well. pic.twitter.com/ieRxXEZvRt

— Jon Ostrower (@jonostrower) March 8, 2020
March 6
If growth continues unabated, this cluster alone may be responsible for 1100 (210, 2800) active infections by March 10 and 2000 (370, 5000) by March 15. 5/7 pic.twitter.com/AJLXA8t5H1

— Trevor Bedford (@trvrb) March 7, 2020
March 4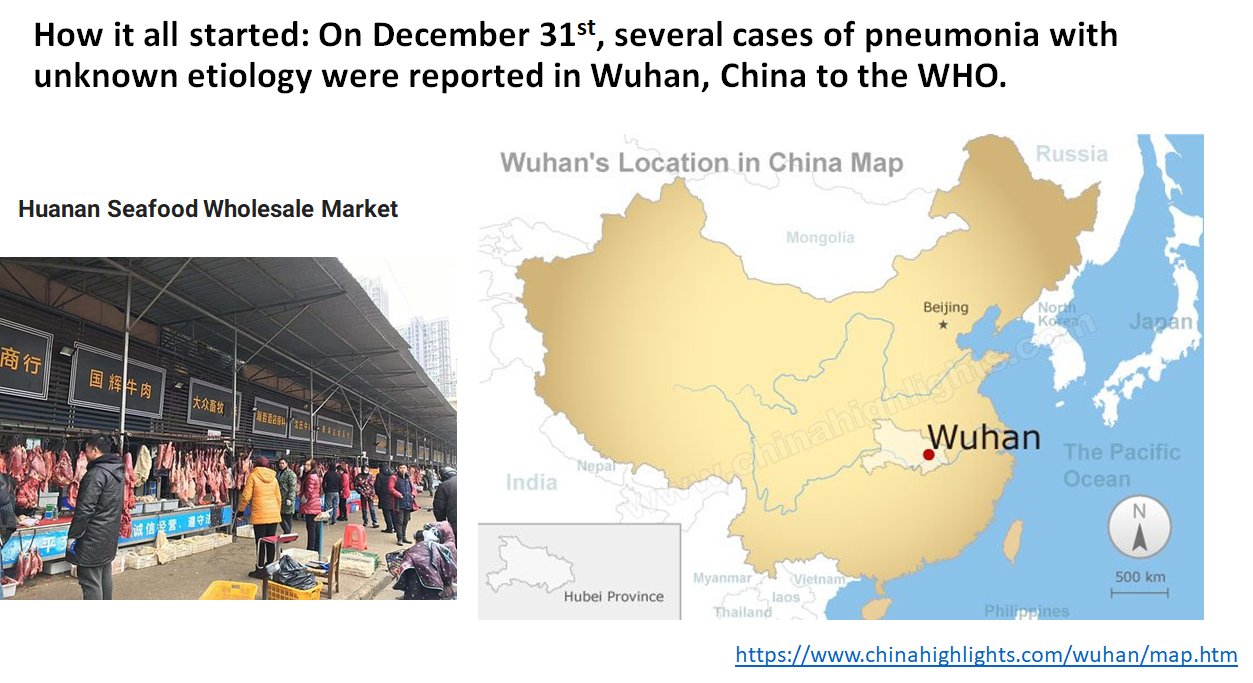 THREAD. 1) I am going to put up my slides here from an overview presentation I gave at Sinai. I hope you find it helpful. pic.twitter.com/fmFAplvXPr

— Florian Krammer (@florian_krammer) March 4, 2020
March 2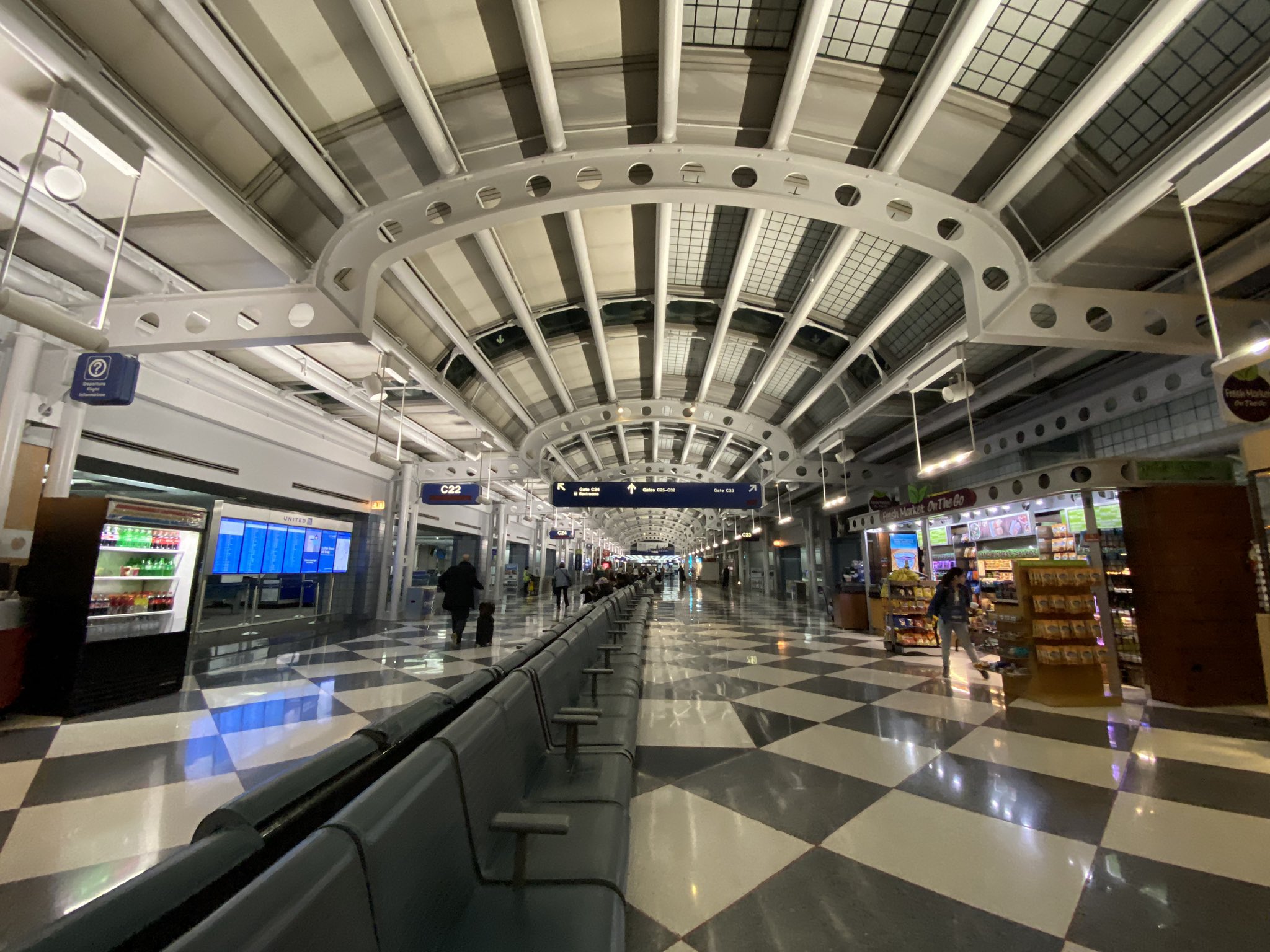 What to make of the virus and the economy? Here's O'Hare airport in Chicago tonight at 7pm rush hour … pic.twitter.com/OzYNWoWLxa

— Evan Feigenbaum (@EvanFeigenbaum) March 3, 2020
January 25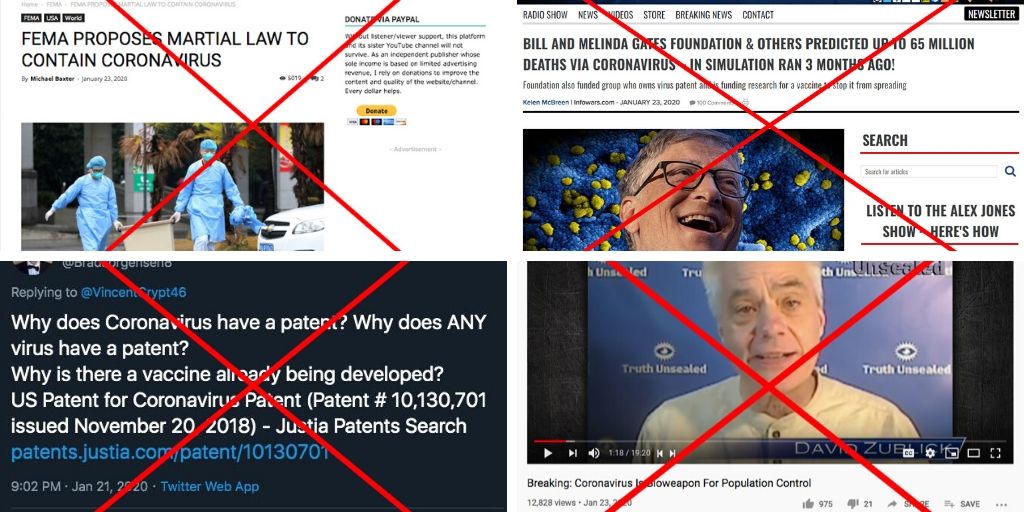 Conspiracy theorists and anti-vaxxers are spreading misinformation about the coronavirus https://t.co/RcxmG4S37P #coronavirusfacts pic.twitter.com/5l2PMlwRrn

— PolitiFact (@PolitiFact) January 25, 2020