Note: Started this collection March 17 (and went backwards from there, then forward, to assemble a lot of the VI I'd been seeing on Twitter regarding COVID-19, coronavirus, global pandemic – however you'd like to refer to this). The first page quickly filled up, and started loading slow, so I started page two to keep the viewing experience optimal. At this point, there's so much every day, that I'll probably just start a new page each week (What day is this? Oh. It's Monday. What month?)
Part one has the original "intro" I wrote for this (and it's copy/pasted on part two). Part one contains VI from January 25 – March 31. Part two contains VI from April 1 – 5. Again, I'll just start a new page weekly, to keep 'em fast loading. Part three has April 6 – 12.
April 19
On sundays we wear brown and orange 🟠🟤 #gobrowns @Browns pic.twitter.com/o7GEFkM44v

— Jessica (@jessica_gju) April 19, 2020
Despite what Digital Underground says, we do not want to do the "humpty hump." Stay home. Don't protest. Don't yell and get your saliva on each other. Be smart. #COVID19

Image: @washingtonpost pic.twitter.com/842ORCEbf7

— Cody Minks (@clminks) April 19, 2020
Baskin Robbins is getting really abstract with their ice cream flavors pic.twitter.com/ZfO0w8bQxH

— Abandoned America (@abandonedameric) April 19, 2020
Things to do during the Great Confinement : rearrange your books. What method do you use ? pic.twitter.com/6uj7riPXUg

— Philosophy Matters (@PhilosophyMttrs) April 19, 2020
Think about baseball season then pic.twitter.com/hAbcSEnknK

— Knox Overstreet (@Deadtown_Nothin) April 19, 2020
Happy National Park Week! Celebrate by joining us during our live tweet today from 10-11am! See you soon! Enjoy our turtles with today's PSA to stay safe and healthy!#FindYourPark #EncuentraTuParque #NationalBatAppreciationDay #NationalParkWeek #NationalJuniorRangerDay pic.twitter.com/ksX4Q2eInc

— Cuyahoga Valley NP (@CVNPNPS) April 19, 2020
Finnish painter Kleopatra Elin Danielson-Gambogi, Cards Balda-Tadin Ajanviete 1886 #womensart pic.twitter.com/xy3ZBi6X5r

— #WOMENSART (@womensart1) April 19, 2020
April 18
#OHIOvsCOVID pic.twitter.com/40ek8mYuPw

— Gail (@Abigale91661983) April 18, 2020
Every patient experience is different, but here is an example of what one could expect with #COVID19. Learn more: https://t.co/lVfH1Xuq30 #InThisTogetherOhio #StayHomeOhio pic.twitter.com/YcopPuszR0

— Governor Mike DeWine (@GovMikeDeWine) April 18, 2020
The end of the golden age of Athens was precipitated by a plague. Stay home. pic.twitter.com/sUCjiUeTBg

— Philosophy Matters (@PhilosophyMttrs) April 18, 2020
Here is a game that you can both play repeatedly, and summarizes life during, the Great Confinement pic.twitter.com/w0VnK58VDv

— Philosophy Matters (@PhilosophyMttrs) April 18, 2020
Now here's a stay at home survival kit that I can wholeheartedly endorse … pic.twitter.com/qcURr5KS1B

— Super 70s Sports (@Super70sSports) April 18, 2020
TV and Film fancy dress for @nickheathsport #NicksPubQuiz. The Young Ones University Challenge recreated from separate houses!! @UniversityChal1 Seemed appropriate with social distancing pic.twitter.com/QGRiGHBSbM

— Robert Guest (@therobertguest) April 18, 2020
Newfoundlanders are known for dropping and adding our H's but this Covid-19 message in downtown St. John's will lift you right hup pic.twitter.com/EwG6u0RHyB

— Melissa Royle Critch (@melissaroyle) April 18, 2020
We're not there for all the right reasons. But on the original date for #RSD2020 it's ok to wish we were. Graphics for social media so you can tell the world where you'd be today: https://t.co/wv4xUVWBHj pic.twitter.com/0nTi2las7V

— Record Store Day (@recordstoreday) April 18, 2020
We are continuing to push state public health departments to release racial data on #COVIDー19.

In 2 wks, more states have provided access to the data. Some of the starkest racial gaps are in:

DC
Mississippi
Louisiana
South Carolina
Michigan
Missouri
Illinois
Wisconsin
via @AP pic.twitter.com/AXhXkfRLZC

— Kristen Clarke 866-OUR-VOTE (@KristenClarkeJD) April 18, 2020
Do you have a loved one in a nursing home or assisted living facility? Please protect them from #COVID19. Instead of in-person visits, share phone or video calls. This is temporary and will protect those at higher risk of #COVID19. Learn more: https://t.co/2MDsOA5oGj. pic.twitter.com/YYT7Jmxp5p

— CDC (@CDCgov) April 18, 2020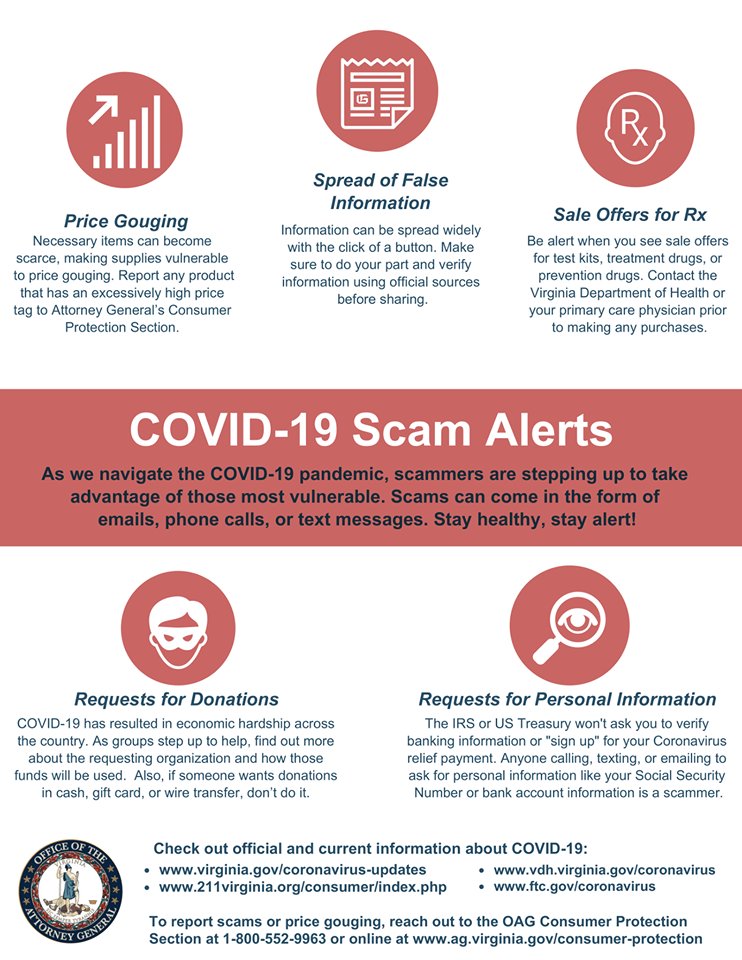 Check out these great tips on how to avoid #COVID19 Scam Alerts by the Virginia Latino Advisory Board. Stay healthy, stay safe! pic.twitter.com/7STN5Itepi

— Virginia Secretary of the Commonwealth (@virginia_soc) April 17, 2020
The next 14 days are going to be really interesting in Florida. All those heading for the beach who are so confident they won't get infected should sign one of these. pic.twitter.com/UHrlDW0UUx

— Greg Hurley (@hurley_greg) April 18, 2020
The Northam administration said "thousands more" people would need to be tested per day to successfully lift public restrictions. Testing rates are going the wrong direction. https://t.co/8coGA6kvf7 pic.twitter.com/nqvn761ehO

— Mel Leonor (@MelLeonor_) April 18, 2020
April 17
TGIF.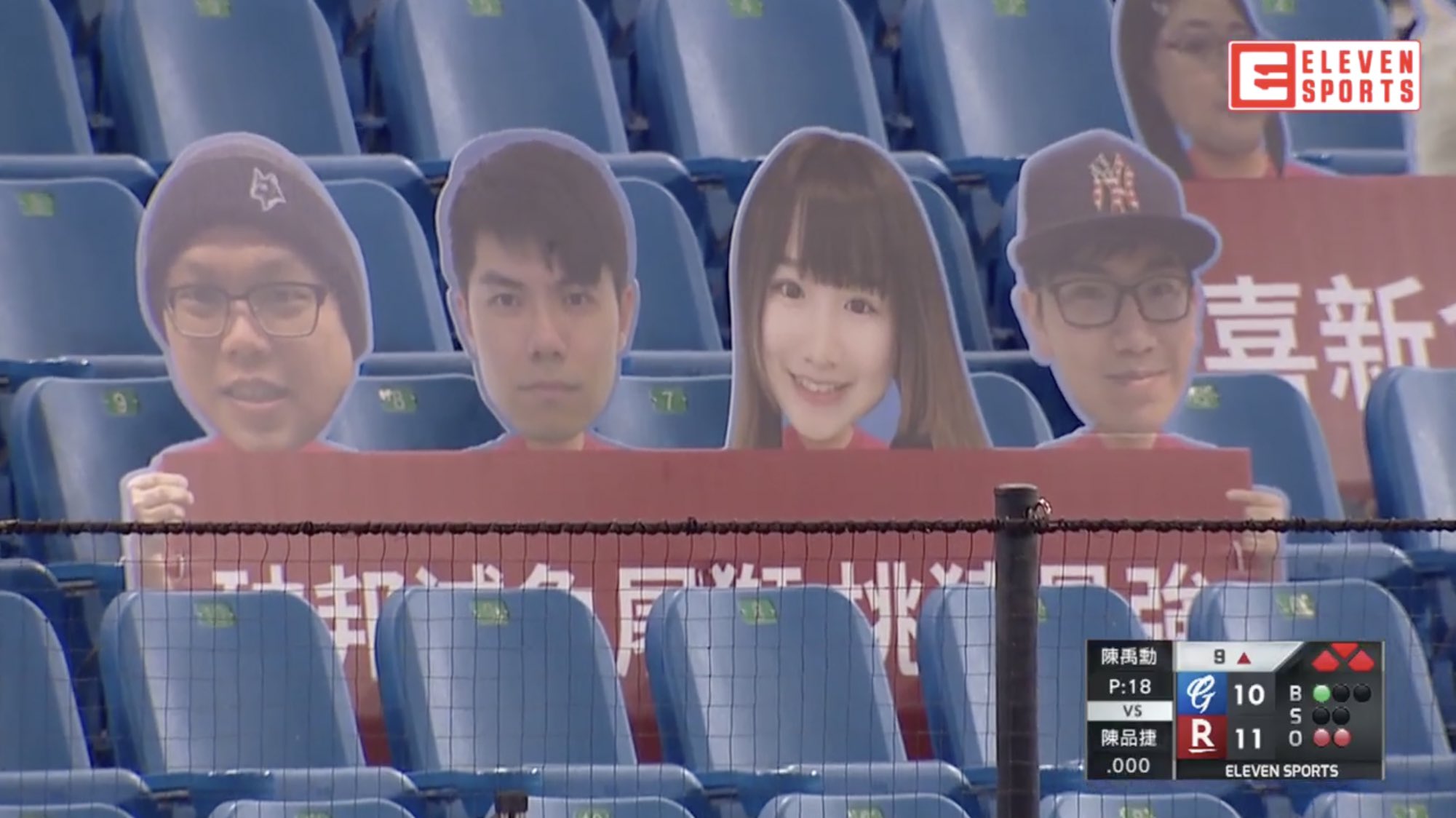 Insane game. Fans really look like they enjoyed it. pic.twitter.com/RuQZIFYO4a

— Céspedes Family BBQ (@CespedesBBQ) April 17, 2020
BBC News not messing about pic.twitter.com/BVmV502ub7

— Scott Bryan (@scottygb) April 17, 2020
Chart: Where people who moved due to #COVID_19 should be counted in the 2020 census https://t.co/ShwliXF5Pj pic.twitter.com/Ge3JHIt3us

— Pew Research Center (@pewresearch) April 17, 2020
Big things coming next week, Cleveland! 👀 pic.twitter.com/Ew9fsqse80

— plutkofamilypartners (@plutkofamilypa1) April 17, 2020
Please join the APCG online colloquium for a virtual panel, The Effects of COVID-19 on African States & Societies, with @JDevermont @Ethnography911 @Ea_Balogun @SimuChigudu @dadakim on April 27 11am EST. Sign up here: https://t.co/RVGzTCBvHn pic.twitter.com/sXxR9V5soh

— Alesha Porisky (@aleshaporisky) April 17, 2020
.@jordan_vita , .@jonahesmith and I built an update to the @nytimes homepage that highlights and organizes news about the coronavirus. It remembers information you have read and emphasizes what you haven't. pic.twitter.com/rKzpdG5xwm

— John-Michael Murphy (@johnmichael_mur) April 13, 2020
after a call to "kill bill" went out on Wed, anti-vaxxers & QAnon raided bill's latest insta post. here's the surge we recorded on 4/15 at 3:14pm ET, showing clear coordination tactics. it peaks at 60 comments/1min.

when you count into the next day it goes up to 31,000 comments. pic.twitter.com/0cB79TFoh1

— Davey Alba (@daveyalba) April 17, 2020
Vous l'attendiez avec impatience!
L'appli "Ca reste ouvert" est sortie sur les stores. 🥳https://t.co/aMovcclfzZhttps://t.co/G78dWkxsRohttps://t.co/w135sLzqrC pic.twitter.com/y1iGWWHUPY

— Ça reste ouvert (@caresteouvert) April 17, 2020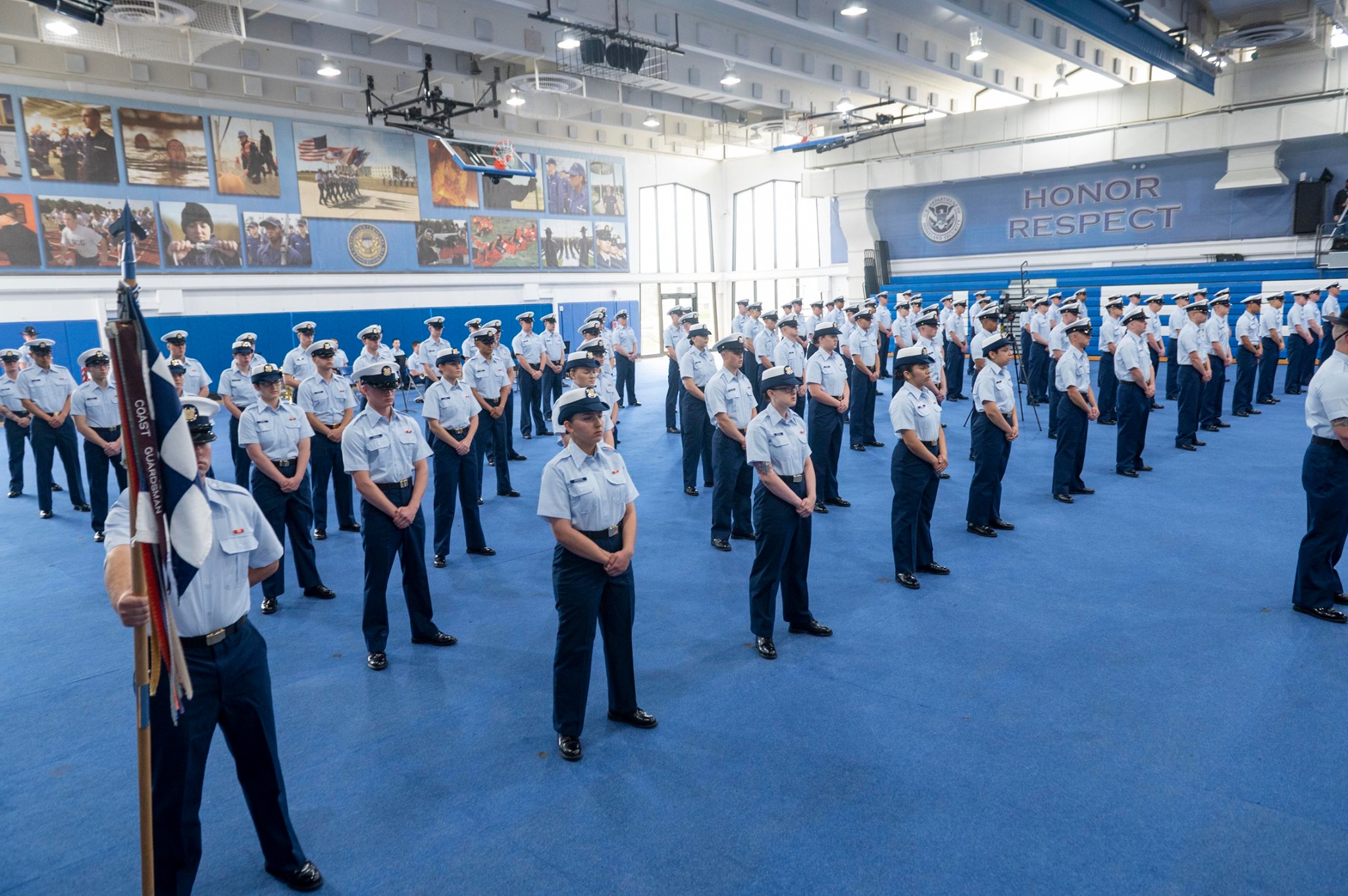 It fills me with great hope that the best of our Nation is still willing to serve despite this uncertainty. Welcome to the fleet, Shipmates! Semper Paratus! pic.twitter.com/ShnCOSOD2b

— Admiral Karl Schultz (@ComdtUSCG) April 17, 2020
RT @fairfaxcounty: Getting some fresh air? Recreate responsibly, including on county park trails. pic.twitter.com/qOpIbOtzDE pic.twitter.com/gamzsLYmM9

— Ready Fairfax (@ReadyFairfax) April 17, 2020
#videoconferencing is part of our new normal. But it's still taking some getting used to. My latest cartoon in The Cincinnati @Enquirer. #zoomfails #coronavirus #StayHome #stayathome #workingfromhome #Video #pandemic #WFH #wfhlife pic.twitter.com/pvlJVXK9zp

— Kevin it's Necessary everyone stay home (@knecessary) April 17, 2020
Infographic I made on the impacts of major CARES Act provisions in 2020 and 2021, based on the new CBO score. pic.twitter.com/43JGycdoJM

— Ernie Tedeschi (@ernietedeschi) April 17, 2020
First and Finest, here's what we've done this week! NMCP has implemented many changes in an effort to help #FlattenTheCurve of COVID-19. Thank you to all of our staff for continuing to do amazing things!
Together we can #StopTheSpread of COVID-19! #NMCPortsmouth #CallToAction pic.twitter.com/iFGU8bhLV1

— NAVAL MED CEN PORTS (@NMCP1) April 17, 2020
.@npr is giving us NPR themed @zoom_us backgrounds. The message: "Tired of feigning authenticity by sitting before an artfully-arranged bookshelf filled with books you've never read? Finally, WFH in NPR-approved glamour! " It includes this shot of the #TinyDesk😍😂 pic.twitter.com/jgpUzIsoYh

— Lulu Garcia-Navarro (@lourdesgnavarro) April 17, 2020
For our Spanish-speaking audience.
More info ➡️ https://t.co/L17hWKfAms#COVID19VA pic.twitter.com/XBIIjfan4q

— VDEM (@VDEM) April 17, 2020
April 16
Do your part to help prevent #COVID19 in #IndianCountry. pic.twitter.com/lF7r8XLQ6w

— NCAI (@NCAI1944) April 16, 2020
I am really excited to bring you Destinee Macklin's story tonight. She's a @BaltimorePolice detective who essentially picked up sewing last year. Now, she's making hundreds of masks. There are a lot of layers to her story! Tune into @wjz at 5. pic.twitter.com/TzuU9075xj

— Paul Gessler (@PaulGessler) April 16, 2020
Health concerns? Concerns about the health of a family member? You are invited to receive FREE testing for COVID-19 this weekend. Individuals can remain in their vehicles throughout the process of collecting their samples. For the complete list, go to: https://t.co/Qk6Ys9QY1E pic.twitter.com/HMk4JE7fos

— TN Dept. of Health (@TNDeptofHealth) April 16, 2020
The #CoronaVirusFacts / #DatosCoronaVirus Alliance has listed some tips to help you talk to those who share false content about #COVID19. Take a look at 👉 https://t.co/QFtInN33se #coronavirus pic.twitter.com/9MMYQNoORR

— IFCN (@factchecknet) April 17, 2020
Midwestern states forming #coronavirus compact
Minn, Wisc, Ill, Mich, Ky, Oh, Inhttps://t.co/HvGKS8SewC pic.twitter.com/ZbLEtwIPRk

— Adrienne Mayor (@amayor) April 16, 2020
With stay-at-home orders going "into June, July or possibly even as long as August. .. we do not anticipate a robust recovery for airlines. Even after people believe it is safe to travel, we do not anticipate we will see robust travel for at least 3 to 5 years." @CowenResearch pic.twitter.com/tLl5n17XSE

— Carl Quintanilla (@carlquintanilla) April 16, 2020
"Travel demand is essentially zero and shows no sign of improving in the near term… we expect demand to remain suppressed for the remainder of 2020 and likely into next year"

United Airlines CEO https://t.co/NVS0lIWU4S pic.twitter.com/zANqrKGrHP

— Jonathan Ferro (@FerroTV) April 16, 2020
Today on Brand New (Linked): Building on the gesture from kids across the UK who have been taping drawings of rainbows on their windows as a sign of hope, Barry Tranter created an optimistic system around it for anyone to use. https://t.co/oKpjcE9uw8 pic.twitter.com/gP1Bi7Fuqu

— UnderConsideration (@ucllc) April 16, 2020
Ferrari is producing respirator valves and fittings for masks. The branding is a neat touch. pic.twitter.com/PoNHENL0yT

— Phillip Horton (@PHortonF1) April 16, 2020
❤️❤️ 100% of profits from our Mo Willems limited-edition tee collaboration will be donated to @WCKitchen & the #CHEFSFORAMERICA relief effort. Preorder by 4/30. @The_Pigeon @chefjoseandres

Preorder your "Take Heart" tee here: https://t.co/AGQquSr7Zz pic.twitter.com/g6V4T60Mrp

— Out of Print – Books, worn well. (@OutofPrintTees) April 16, 2020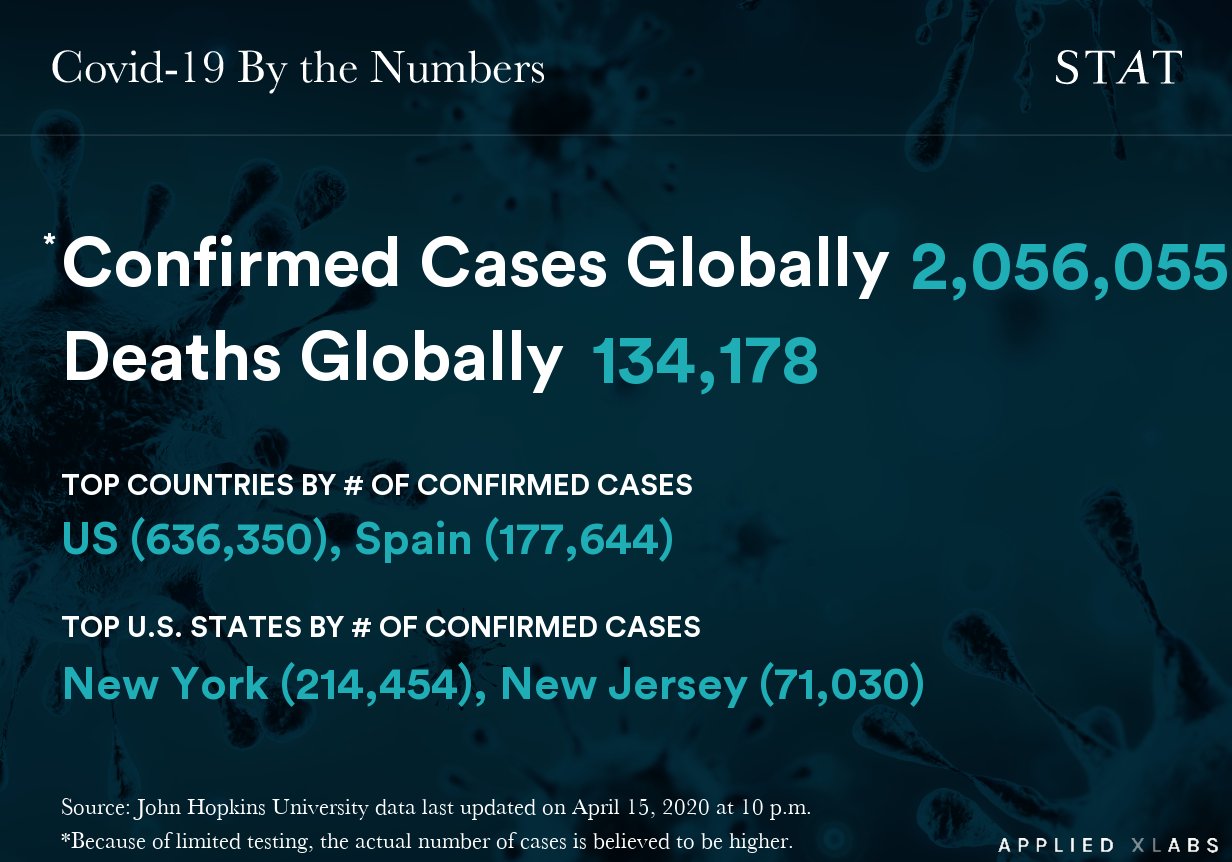 #COVID19 by the numbers.

For more details, including case counts for every U.S. state, view our COVID-19 Tracker here: https://t.co/673BiQ0TxH pic.twitter.com/GGzJgHZz4S

— STAT (@statnews) April 16, 2020
Teleworking was once an option, not the norm. If teleworking is your new normal during the #COVID19Pandemic, finding the right balance is the key to your health. Make time to take care of your overall health – body, mind and spirit. https://t.co/po2Q0AVdXe pic.twitter.com/myN4VxB7vt

— Defense Health Agency (@DoD_DHA) April 16, 2020
April 15
Happy Tax Day!
The Seven Sins of Quarantine. https://t.co/k9B8biWjbe pic.twitter.com/wNIqpQm2oV

— Timothy McSweeney (@mcsweeneys) April 16, 2020
96% drop in travelers through TSA checkpoints compared to 2019: https://t.co/UiH3cSiASx pic.twitter.com/i6WvOEXMWn

— Juan Melli (@juanmelli) April 16, 2020
NEW: A supplement to this story about VA and masks. We just obtained this poster Department of Veterans Affairs has distributed to VA hospitals. https://t.co/fkmnHQXdZY pic.twitter.com/ol8LDguYsF

— Jason Leopold (@JasonLeopold) April 15, 2020
😂😂😂😂 pic.twitter.com/Yma3KZI53Z

— Noor | نور (@MyNrhindi) April 15, 2020
In addition to keeping your distance from other visitors & avoiding busy parks, we want you to come prepared: please carry out your trash, bring water & check the website for restroom information. Open restrooms here: https://t.co/2uvyGNVEFi #COVID19 #StopTheSpread pic.twitter.com/dVPCtvVUKm

— Summit Metro Parks (@metro_parks) April 15, 2020
Press Gazette wants to highlight the best coronavirus-related journalism from round the world. The submission deadline is tonight at midnight. https://t.co/EQ5QPQTSG8 pic.twitter.com/QclxpPfwj4

— Nieman Lab (@NiemanLab) April 15, 2020
Librarians stay winning. This is next level. pic.twitter.com/T4YD4HoBEU

— Melissa Murray (@ProfMMurray) April 15, 2020
PHOTO OF THE DAY!
Nurses Mindy Brock and Ben Cayer from Tampa… Ben says re the photo "we're all going through the same thing right now and it's a symbol of hope and love." VIA @AP_Images pic.twitter.com/SIYqgsBW89

— Lauren Peikoff (@laurenpeikoff) April 15, 2020
Ok Buckeye Twitter Friends, squeaky wheel gets grease right? @LzabelM w clutch move for you w the face mask after the initial reveal of the 🐊 last week. Thanks Eliza! 🙌 Go BUCKS and GATORS! 🌰🐊(and Falcons and Utes). #TwoSchoolsThreeNattys 🎉🥇🏆#StayHealthy @lisaclarksrq pic.twitter.com/BgzlO6MYv8

— Shelley ❌eyer (@spinnershells) April 15, 2020
The devastating March collapse in U.S. retail sales is stunning enough in this chart.

The April plunge is going to be far, far worse. https://t.co/zf3VPjMnBs pic.twitter.com/T5zLuOqbiT

— Sudeep Reddy | Wash Your Hands (@Reddy) April 15, 2020
Cardboard cutouts replace a live audience for the first pro baseball game of the season in Taiwan.
*Pets included. pic.twitter.com/KevJMtL4VM

— ian bremmer (@ianbremmer) April 13, 2020
Wow. Billboard & Hollywood Reporter laid off their entire IT staff, so the IT staff posted it to the website.

It reads: "Fat drunk and stupid is no way to go through life…#SavingABuckAtYourExpense" pic.twitter.com/Z5nrMD7Hzo

— Zack Whittaker (@zackwhittaker) April 15, 2020
We have a new data dashboard available. We are now providing data on long-term care facilities, whose residents are at higher risk of severe illness from #COVID19. We are especially focused on preventing infections in this population. New dashboard: https://t.co/jiqMdFDNVE pic.twitter.com/HkmEmY75no

— Healthy SCC (@HealthySCC) April 15, 2020
April 14
It is Tuesday. That is the day of the week that is today. Carry on.
Communiquer en temps de catastrophe: comment conjuguer #COVID19, potentielles inondations et autres sinistres?

Plus que 48h pour vous inscrire au webinaire de l'#UMQ le 16 avril, animé par @G_laineMaltais. Faites vite!

👉 https://t.co/ilvRSbUyt2#polqc #polmun #çavabienaller pic.twitter.com/4JoVzYdB7J

— UMQ (@UMQuebec) April 14, 2020
By actively identifying, assessing, & reframing our thoughts, we allow ourselves to acknowledge what's important while shifting to what we can do & how we can accomplish it. Read more in today's @PsychToday article: https://t.co/h8aJBBPtYZ. #SpiritualFirstAid #COVID19church pic.twitter.com/wFyE13YdMs

— HDI (@WheatonHDI) April 14, 2020
The Taiwanese internet is going "pink" today––an unofficial campaign to break gender stereotypes––following a tale about a boy who refused to wear a pink mask to school for fear of being bullied #ColorHasNoGender #顏色沒有性別 pic.twitter.com/ftAvPA9C7V

— Joyu Wang (@joyuwang) April 14, 2020
JUST IN: 93-year-old Olive Veronesi of Seminole, PA, who held up a sign at her window asking for more beer, has received a delivery from @CoorsLight. The brand tells me 150 cans arrived at her house today. pic.twitter.com/c2lfGFBBTS

— Darren Rovell (@darrenrovell) April 13, 2020
Continuing with the NBA Playoffs 2020 Masked Edition – Central Div. #designthinking #creativityathome #keepsafe #MasksNow #NoDunks @NoDunksInc #uniwatch #jerseytalk @UniWatch Cheers! Thank you for the inspiration 🙏 pic.twitter.com/8A7h1pBSdZ

— imstefanvasilev (@imstefanvasilev) April 14, 2020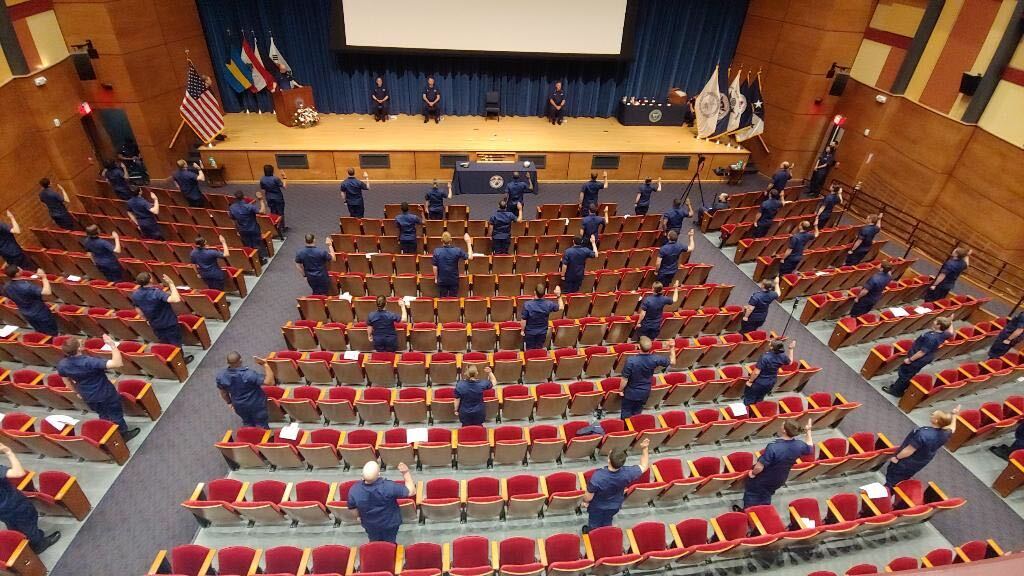 Privileged to commission 82 @uscg Ensigns from Officer Candidate School Class 2-20 who reported to New London, CT, on 8 Jan. Since then, much has changed here in America & across the globe amidst the ongoing public health crisis. pic.twitter.com/mPfsUvYAna

— Admiral Karl Schultz (@ComdtUSCG) April 14, 2020
The U.S. has now crossed 600,000 confirmed COVID-19 cases and 25,000 deaths. pic.twitter.com/yjDasaIMvT

— Charles Ornstein (@charlesornstein) April 14, 2020
Canning day! pic.twitter.com/U3xmXto5la

— IndyIRF (@IndyIrf) April 14, 2020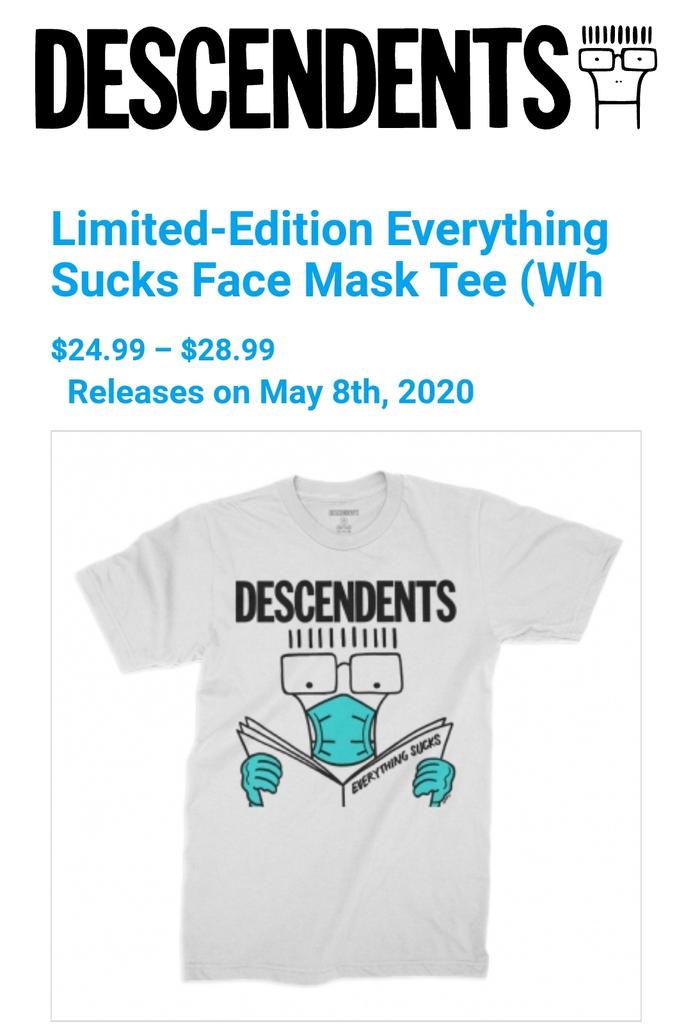 Legendary SoCal punk band Descendents are selling a #coronavirus Milo themed t shirt with all proceeds going to benefit the @crookedmedia Coronavirus Relief Fund which is helping out a bunch of organizations.https://t.co/HOOx6z947a pic.twitter.com/XonLQ8dk0q

— Jason Leopold (@JasonLeopold) April 14, 2020
I painted my husbands social distancing mask. Inspired by a favorite masterpiece Magritte's "The Son Of Man" Safe & Creative #gettymuseumchallenge pic.twitter.com/qT70Z9yUdP

— LONye (@Nye1O) April 14, 2020
Sign at the Central Park Reservoir, NYC.
Instagram: https://t.co/nISbPakAdm pic.twitter.com/0HhaXIz66d

— Michiko Kakutani (@michikokakutani) April 14, 2020
"You don't need gloves or a mask…"
Why "adapted" info does this differ from widely-distributed CDC guidance? For the most up to date and trustworthy information in a crisis, always go to the source of possible https://t.co/WchsgThzOP pic.twitter.com/O7tDUN7kPP

— Mariana O'Leary (@mmoleary78) April 14, 2020
Your city needs you. If you're a doctor, nurse, PA or med student and are currently not working, sign up to help us fight COVID-19: https://t.co/i3Wc6ws8lD. pic.twitter.com/YSKOf4bSgI

— NYC Emergency Management (@nycemergencymgt) April 14, 2020
VA Dem @RepWexton in color coordinating hot pink/purple blazer and face mask today presiding over the House pro forma session pic.twitter.com/PqAelUO33D

— Alex Moe (@AlexNBCNews) April 14, 2020
Memphis photographer Jamie Harmon asked his neighbors to stand (at a safe distance) for portraits of life under lockdown. https://t.co/mHrwhFbthD pic.twitter.com/THkk1JGifE

— Bitter Southerner (@BitterSouth) April 14, 2020
☀️We look forward to the days when we can welcome you back to the Museum and Studio. Until then, we offer you this message and hope that you will print and share it in your window with your community.

🖍️Print in color or color your own: https://t.co/vwVjxgIr8b#MuseumfromHome pic.twitter.com/2bijmnb2mJ

— Chrysler Museum (@ChryslerMuseum) April 14, 2020
Do you know the back story on this viral photo?
1) It's not the United States. It's Lebanon.
2) The reporter was doing a story on a PPE manufacturer, and was wearing it on camera for show-and-tell. It was not for personal protection #ContextMattershttps://t.co/KWlQeiOxHb pic.twitter.com/MZkuRLjPMg

— Brendan Keefe (@BrendanKeefe) April 13, 2020
Below is a graphic outlining a few examples of the Dos & Don'ts of Social Distancing. This emergency is not yet over, & it's very important that we don't let our guard down yet.

What are some of the things you and your family are doing to stay active during #COVID19? pic.twitter.com/Fc4mF2SXey

— Maryland Emergency Management Agency (MDMEMA) (@MDMEMA) April 14, 2020
— Cyclone Dusk (@Stonehawk) April 14, 2020
#TipTuesday ✍🏾 Some healthy communication tips for you and your partner to practice. Especially during this time. Hope you find this helpful 🤗 pic.twitter.com/DQ7uXgQjn5

— Jordan A. Madison, LGMFT (@therapyismyJAM) April 14, 2020
April 13
This week's cover, "After the Shift," by Owen Smith: https://t.co/ev8aYnIwvF pic.twitter.com/jjp3yafyQV

— The New Yorker (@NewYorker) April 13, 2020
We're #InThisTogetherMKE.

A limited number of T-shirts are on sale now for just $25 at https://t.co/miHQpU9Bq1.

Net proceeds will support the Brewers Community Foundation's efforts to raise money for local nonprofit organizations experiencing increased demands due to COVID-19. pic.twitter.com/k0YzNTLekM

— Milwaukee Brewers (@Brewers) April 13, 2020
Cartoon pic.twitter.com/BeiWsBZtZ2

— Bill Bramhall (@BillBramhall) April 13, 2020
Bored in quarantine, @petemrogers spent the last month redesigning every #NBA jersey.

Here's the final result: https://t.co/g75jd7rtTj pic.twitter.com/CRh9Pse1ij

— Fake Teams (@faketeams) April 13, 2020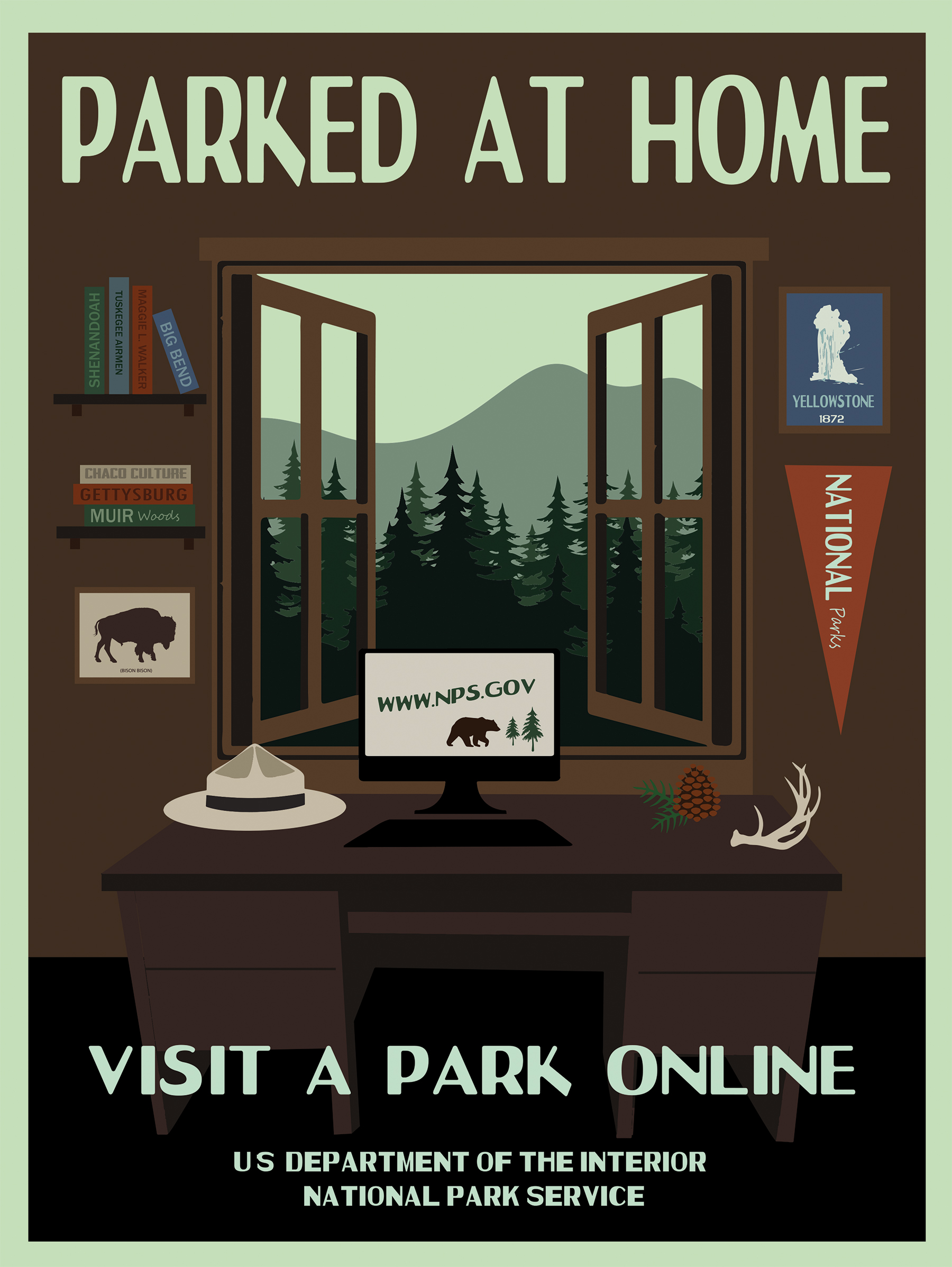 Parked at Home? Stay connected with national parks across the country with online resources to help you #FindYourVirtualPark!

Visit https://t.co/gddVgDe6dq pic.twitter.com/gTt4UgQ4Sq

— National Park Service (@NatlParkService) April 13, 2020
Did you lose your #job or have your hours been cut because of the #Coronavirus? Know your rights to federal and state-based assistance. Check out https://t.co/Vlv8VypUuf h/t @NelpNews @FmlyValuesWork #paidsickdays pic.twitter.com/OkIkbmte9m

— Family Values @ Work (@FmlyValuesWork) April 13, 2020
Brazil's Christ the Redeemer statue was illuminated to look like a doctor on Easter Sunday, in a tribute to front-line healthcare workers battling the coronavirus pandemic around the world. https://t.co/DWOJ4coo3g pic.twitter.com/uuCBPScG45

— CNN International (@cnni) April 13, 2020
MORE: @UVA model shows the future of COVID-19 spread in state depends on policy. @NBC12 pic.twitter.com/2gjvtjG1yk

— Henry Graff (@HenryGraff) April 13, 2020